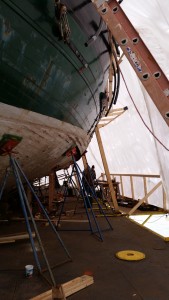 BEACON, NY– Hudson River Sloop Clearwater has received another generous round of support from New York State in the form of a $343,776 matching grant. This grant from the Office of Parks, Recreation and Historic Preservation (OPRHP) will be applied to the winter 2016 restoration. The funds will be used to restore the rigging and topsides above the water line on the historic sloop replica Clearwater.
New York State has continually supported Clearwater's work on the Hudson River by funding the restoration of the iconic sloop Clearwater, a 106 ft. wooden tall ship, which was first launched in 1969. The boat was built by Pete Seeger and friends to bring awareness to the health and beauty of the Hudson.
"We are very grateful that New York State has again provided Clearwater with significant funding to help offset the cost of sloop restoration.  Clearwater relies on matching grants like these in combination with private support to keep the Sloop sailing."  Matt Soper, Director of Development.
Clearwater will be celebrating the sloop's restoration with music, food and tours of the work being done at the next Open Boat event on January 16th 2016 at Clearwater's home port beside the Hudson River Maritime Museum at 50 Rondout Landing, Kingston, NY. During the sailing season, Clearwater serves the Hudson River with unique education sails for school groups from Manhattan to Albany. Clearwater, founded by Pete Seeger, has been serving the Hudson River with unique environmental education programs since 1969.