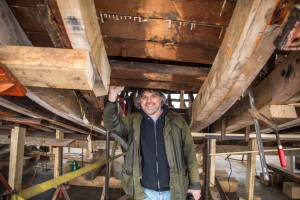 BEACON, NY– Hudson River Sloop Clearwater has announced long-time Clearwater staff member Dave Conover as the interim executive director of the Beacon based non-profit organization. Mr. Conover has been the Education Director at Clearwater since 2007. His extensive knowledge of the Hudson River, experience sailing on the sloop, and in depth understanding of the organization's work in education and environmental initiatives makes him a perfect fit to lead the organization until the search for an Executive Director can be launched.
Dave first joined Clearwater in 1991 as an onboard educator and has since worked in various roles for the organization. Dave received a BS in forest biology from SUNY ESF and an MS in environmental studies with a teaching certification from Antioch University New England. Dave has experience working on American shad research in the Connecticut River, water treatment for the NYC DEP and environmental education at the Ashokan Center. Dave is a long-term adjunct instructor at Marist College in Poughkeepsie and also supervises Clearwater's new microplastic research project.
"I'm grateful to everyone who has rallied to help Clearwater recently. Our focus now is to get the resources we need to complete the restoration the sloop and get her sailing again. The Clearwater is such an important symbol of both the river's renewal and Pete Seeger's environmental legacy that it's simply impossible to imagine a Hudson River without the sloop," said Dave Conover.
The announcement of Clearwater's interim executive director comes one month after the resignation of Peter A. Gross, former executive director. The Board of Directors are grateful to Dave Conover for the loyalty and leadership that he has shown over the years and for the initiative he has taken to help pull Clearwater through this transition.
Sloop Clearwater, America's Environmental Flagship is currently undergoing a landmark restoration of the ship's hull taking place at the Hudson River Maritime Museum in Kingston, NY. This extensive restoration will cost Clearwater $850k.
During the sailing season Clearwater serves the Hudson River with unique education programs where the focus is experiential. Students come aboard and learn about Hudson River ecology, history and navigation.