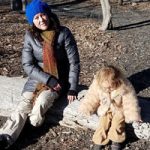 Wren Longno, appointed Clearwater Development Director in March 2017, is a nonprofit manager with 10+ years of communications, marketing and fundraising experience. Previously, she was the Deputy Director of John Jay College's Center on Media, Crime and Justice working part time at the Center while caring for her two small children.
Prior to John Jay, Wren served as director of communications and development for a supportive housing provider Housing and Services, Inc. (HSI) and as  members' director for supportive housing advocates, the Supportive Housing Network. Supportive Housing addresses root causes of poverty through the provision of affordable housing with services and is built for people who were homeless.  Over 8+ years in supportive housing she coordinated conferences, large awards galas, built partnerships amid constituents, developed best practices trainings, managed an emergency preparedness/resiliency initiative and raising the profile of both organizations, and orchestrated a re-branding initiative at HSI,  while managing internal and external communications and marketing.
Wren began her professional career as Marketing Director/Associate Executive Director of Tony-Award winning off-Broadway theatre company, The New Group where she implemented outreach strategies for single-ticket sales, a re-branding initiative, subscriber campaigns and young patrons initiatives.
Wren is excited to join the Clearwater team in working to protect the Hudson River.