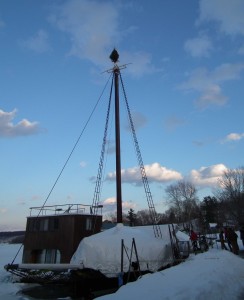 Join the sloop Clearwater in Saugerties for a winter tradition 
The public is invited to join Clearwater, America's environmental flagship, for Family Open Boat Days on Sunday, January 15, 2:00-6:00 PM; Saturday, February 18, 5:00 – 9:00 PM; and Saturday, March 24, 5:00 – 9:00 PM, at Lynch's Marina in Saugerties, NY.
As Clearwater enters her winter maintenance season, the community is invited to get involved and enjoy good food, music and company. Friends and families can come tour the sloop Clearwater in her winter port, meet the crew, learn about woodworking projects and repairs to the sloop, and cozy up in the shop for refreshments, stories and live music. Clearwater's own Power of Song Apprentice group will kick off the festivities on January 15 with music. Attendees are invited to bring an instrument and join the jam session, or a favorite dish to share at the potluck.
Lynch's Marina is located at 2 Ferry Street, Saugerties, NY, 12477 map
Open Boat Family Days are free and open to the public; a $10 donation is suggested. RSVPs are appreciated, but not necessary. Please contact Linda Richards at Linda@Clearwater.org, or 845-265-8080, ext.7105.