Jeremy Rainer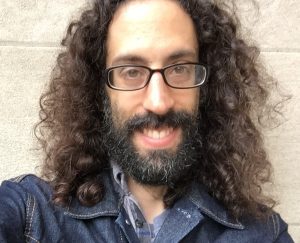 Jeremy Rainer is a sound engineer and producer at WFUV FM in New York.  His family fostered in him a deep love and respect for Pete Seeger and the principles he stood for.  He's been going to the Revival all his life, and has been a Festival volunteer for twenty years.  When he was seventeen years old, Jeremy invited Pete to his high school to play a concert, and since that time he saw Pete whenever and wherever he performed.
In his work at WFUV, Jeremy produces "Woody's Children" with Bob Sherman, and once was able to set up an interview with Pete for a birthday special.  In addition to maintaining a relationship with Pete himself, Jeremy has fostered friendships with many of Pete's own friends and fellow Clearwater artists, including David Amram, Tom Chapin, and Noel Paul Stookey.
When Toshi Seeger passed away in 2013, Jeremy was honored to mix sound for her memorial concert in NYC.  Performers not only included Pete, but also Judy Collins, Arlo Guthrie, Guy Davis, Fred Hellerman, and Peter Yarrow.
After Pete himself passed in 2014, Jeremy co-produced "Seeger Fest," a five-day festival in memory of Pete and Toshi.  Jeremy was technical manager for the festival, which encompassed making stage plots for numerous artists, formulating soundcheck and run-of-show schedules, and stage-managing the five concerts.
Jeremy's commitment and devotion both to Pete's legacy and to Clearwater runs deep and wide, and he has enjoyed bringing that passion to the Clearwater board of directors.