Jeffrey Domanski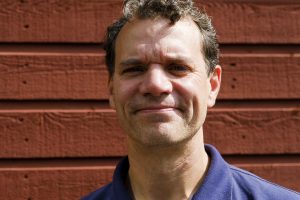 Jeffrey Domanski is a proud Hudson Valley native and has worked for more than 25 years as an environmental professional.
He is Executive Director of the Center for Economic and Environmental Partnership and Hudson Valley Energy, a nonprofit promoting sustainable communities with a focus on renewable energy strategies.
Jeff served in the U.S. Peace Corps as a science teacher and is an amateur musician. He started his second term on the Clearwater Board in 2019, and also serves on the nonprofit boards of Sustainable Hudson Valley; the United States Green Building Council (USGBC)-Upstate New York chapter, and has been the organizer of Hudson Valley Green Drinks since 2013.
At Clearwater, Jeff is intent on supporting the organization's Environmental Action efforts and linking that work with Clearwater's Educational mission to both build capacity to address the Climate Crisis now and foster the development of the next generation of environmental professionals.