As the beloved sloop Clearwater's restoration nears completion, her sister-ship steps in.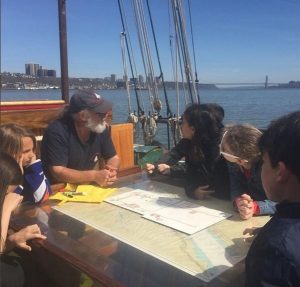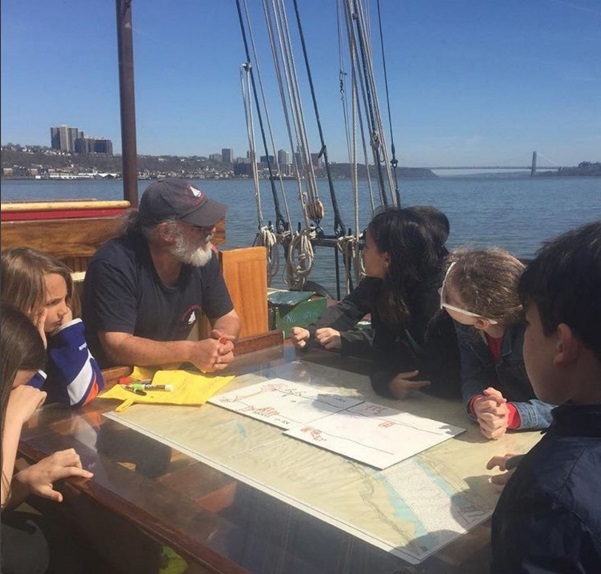 BEACON, NY– The Schooner Mystic Whaler has returned to the Hudson River for another spring of conducting Clearwater's onboard education programs and public sails. The Mystic Whaler, based out of New London, CT is Clearwater's sister ship and has been sailing alongside her every spring for the past 21 years. The Mystic Whaler includes Captain John Eginton, his crew, and a team of Clearwater educators.
Students sailing aboard the Mystic Whaler get the same educational experience they would on Clearwater. Young sailors get the opportunity to experience the Hudson River hands on, learn the history of the River and the people along it's banks, the ecology of the fish and other creatures living in it, how to test for water quality, and to become lifelong stewards for the River.
The Mystic Whaler is a welcomed sight for the organization, as the sloop Clearwater has been undergoing a major hull restoration since October 2015. Expecting to return to the River in mid June, Clearwater's crew is excited to be able sail with students again.
The tall ship, Clearwater launched in 1969 by Pete Seeger and friends received a mandate from the US Coast Guard to restore and replace large sections of the nearly 50 year old wooden ship, including her hull. The project will cost Clearwater $850,000 to complete and the small non-profit continues fundraising efforts to 'Splash the Sloop'.
Mystic Whaler Captain, John Eginton said,"Clearwater's education programs provide a unique experience for school kids, giving them an appreciation for the Hudson River that will last a life time. We are all excited to seeClearwater's restoration behind us and seeing her back on the river with the wind in her sails."
The Mystic Whaler is currently docked at the 79th Street Boat basin in NYC and will be traveling North during the second week in May. The schooner is available for educational sails, private charters and public sails.