2012 marks the 40-year anniversary of the passage of the Clean Water Act, yet more than half of the streams feeding into the Hudson River watershed have degraded water-quality from pollution and urban  and suburban runoff.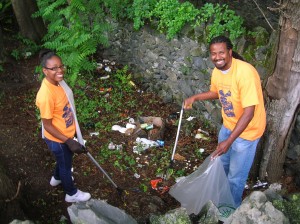 Today Clearwater works closely with civic leaders, citizenry, and state and federal regulatory agencies to help protect and manage the Hudson River Watershed by addressing both the point and nonpoint sources of pollution.
Clearwater is on the ground building constituencies with community centers, city leaders, and residents in Poughkeepsie's Fall Kill Creek Watershed and with Kingston's Rondout Creek Watershed Council to improve water quality and habitat, and implement green infrastructure practices that also supporting social and economic interests of the community.
Clearwater has a history of participating in watershed-scale issues, including the twenty-year battle to remove PCB contamination from the Hudson River, incubating the Hudson River Watershed Alliance, and fighting the excessive use of pesticides. Read more about Clearwater's Watershed Protection efforts:
"Major Hudson River Tributary Gets Much Needed Attention"
Clearwater Navigator, Winter 2008, page 14 & 20
"Watershed Protection is Key to Protecting Natural Resources"
Clearwater Navigator, Winter 2008, page 15
"Spring Cleaning on the Fall Kill"
Clearwater Navigator, Spring 2009, page 16, 17
"Family Stream Monitoring Day Held in High Falls"
Clearwater Navigator, Winter 2010, page 14
"Stemming the Flow of Stormwater Runoff"
Clearwater Navigator, Fall 2010/Winter 2011, page 13
About Watershed Management:
Comprehensive watershed management plans include data from field inspections and inventories of existing drainage structures, mapping of watercourses, analysis of runoff rates and allowable capacities, and identification of existing and potential problem areas.
Certain development practices may disturb land and create impervious surfaces such as roads, rooftops and compacted soil that in turn drastically change natural drainage patterns. During construction, existing grades and vegetation can be damaged, resulting in soil erosion. More sustainable forms are low impact development (LID) or better site designs are recommended.
Ideally, floodplain and stormwater management efforts combine to minimize impervious surfaces and maximize infiltration of clean runoff into the ground. Untreated stormwater should not be allowed to discharge directly into surface or subsurface waters. Site-specific runoff control measures should be based on their location within the watershed. Effective stormwater management will maintain the natural patterns of runoff within the watershed.