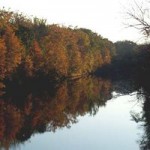 The RCWC is committed to protecting water resources, increasing community awareness through education and improving conservation efforts throughout the Rondout Creek Watershed.  To further this purpose, RCWC is developing a Comprehensive Watershed Management Plan which will identify best watershed management practices for the four municipalities of the Lower Non-Tidal portion of the Rondout Creek.
The Rondout Creek Interim Watershed Management Plan focuses on the following key watershed protection topics specified by local stakeholders:
Watershed Education and Awareness – forming strategic partnerships
Stormwater Management – stormwater regulations and best practices
Floodplain Management – includes riparian buffers, remapping of floodplains, not building in floodplains, minimizing impervious surface, controlled releases or diversions to prevent flooding wherever possible, buyouts and emergency response.
Vegetation Management (ecological issues) – also includes protecting riparian buffers and wetlands, as well as agriculture, forestry, open space and biodiversity protection.
Developing a management strategy across municipal borders that will incorporate municipal watershed data can better serve to manage and protect the health of the Rondout Watershed and Creek. The development of a Watershed Management Plan that takes into consideration the ecological and cultural assets of all the municipalities in the Rondout Creek Watershed and of its neighboring watersheds will strengthen regional efforts to promote the connectivity of all the Hudson Valley watersheds.
Rondout Creek Intermunicipal Agreement Regarding the Rondout Creek Watershed Management Plan
DRAFT RONDOUT CREEK INTERIM WATERSHED MANAGEMENT PLAN
Download PDF of the Full Draft Plan
Section 2 – Rondout Creek and Adjacent Watersheds
Section 3 – Lower Non-Tidal Rondout Creek Watershed Characteristics
3.1 Watershed Soils and Geology
3.4 Riparian Vegetation Ecology and Management
Section 4 – Water Quality – Monitoring and Biomonitoring
4.2 – Stormwater and Wastewater
Section 5 – Economic Development in the Watershed
Section 6 – Educational and Recreational Assets
Section 7 – Summary of Recommendations for Key Watershed Issues
Section 8 – Guide to Implementation
Origins of The Rondout Creek Watershed Council: The Department of Environmental Conservation's Hudson River Estuary Program (HREP) provided Hudson River Sloop Clearwater, Hudson Basin River Watch (HBRW), and Cornell Cooperative Extension of Greene County a grant to organize watershed education and watershed resource planning initiatives for the Rondout Creek Watershed Council.  Formed in 2007, the goal of the Rondout Creek Watershed Council is to collaborate with the four municipalities along the non-tidal portion of the lower Rondout Creek Watershed (Rochester, Rosendale, Marbletown and Wawarsing) to develop a Watershed Management Plan (WMP). In 2010, RCWC all four Towns adapted a revised IMA for collaborative watershed planning. RCWC watershed management efforts are being closely coordinated with the NYC Department of Environmental Protection initiatives in the upper Rondout, and the adjacent Lower Esopus and Wallkill watershed management groups, and in 2011 with funding from the Department of State, this watershed planning and protection work will be expanded to include the tidal portion of Rondout, which runs through the City of Kingston and the Towns of Esopus and Ulster.
Click here to go to the Rondout Creek Watershed community page on Facebook.