Dear Clearwater,
In the fall of 1973, I borrowed my parents' car to bring my belongings to college for the start of my senior year. When I returned home the next day, I found my father and a neighbor in the backyard, rigging a 15 foot sloop on a trailer. When I asked "Whose boat is this?" my father answered, "mine." He had just bought it second-hand, and was about to teach himself to sail. The following spring, he brought me and a friend from high school out for a sail on the Hudson River at Piermont. As we were sailing, we spotted the Clearwater under sail and afterward my classmate, a friend of then-president of Clearwater Angela Magill, loaned me a couple of copies of the Clearwater Navigator, including the infamous tale of "30 Seconds Before the Mast" (if I recall the title correctly).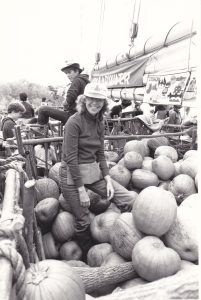 For several years thereafter, I lived on the West Coast, but in 1978 I bought a house near Piermont. The first year I was there, Pete Seeger and Rick Nestler, both wearing Greek fisherman caps, sailed into Nyack on the Woody Guthrie and gave a concert. Afterwards, in the shade of a tree in the park, Pete led an informal conversation. I was inspired, first, to borrow my father's sloop and try my hand at sailing, with help of a housemate. I was also inspired to join Clearwater. A number of times, when she was in the Piermont area, I joined her out on the river, then tied up beside her at the Piermont Pier to visit. (We almost dismasted, once, sailing our little sloop around Clearwater's overreaching boom at dockside). Some years later, Eloise and I sailed down to a meeting of Ferry Sloops in Hasting, and up to the 1984 Revival at Croton. On the way back from Hastings, we ran out of wind, then gasoline, then daylight, to the annoyance of a motorboat barreling through the blackness near us.
In 1980, I volunteered at an early Great Hudson River Revival, I had offered my skills as a stagehand, but ended up selling food tickets. Finally, in September of 1981, I volunteered on board for the first time, embarking at South Street Seaport. When I finally mustered the courage to go aloft, Heidi Gundlach, the Bosun, set me to work helping her end-for-end the peak halyard. It was in the days of manilla running rigging, and when I reached the deck, my hands resembled porcupines. The final day included an "activist's sail" before Clearwater's Annual Gathering outdoors at Marist College. I hitched a ride back to Rockland County with a Clearwater board member. Whenever Clearwater next came to south Rockland County thereafter, I provided shore support, carrying groceries, ice blocks and head buckets in my car, and offering showers at my home.
I volunteered again the following October, including during a party sail of dignitaries observing the Mayor's Cup Schooner Race in New York Harbor. I worked a couple of winter maintenance weekends in early 1982 and one in April 1983, but I declined Captain Peg Brandon's invitation to join in the shakedown sail and left early Sunday to hike with a group I'd recently joined, in hopes of reconnecting with a woman I had met there. We did connect, and as a result, Eloise Owens crewed for a week in September 1983. We did a maintenance weekend together in 1984 and, in October of that year, had the privilege of crewing on a Pumpkin Sail, with Pete and the Beacon Sloop Club sailing alongside in the Woody Guthrie.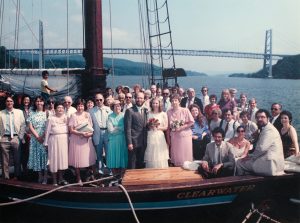 On July 13, 1985, Eloise and I were married on Clearwater's deck under sail, beneath the Bear Mountain Bridge while tackling against a flood tide and headwind, after aunts, uncles, friends and even the minister helped raise the mainsail. Video of the event reveals the crew to have included Captain Peg Brandon, Morley Horder, Travis Jeffrey, Pietro Poccia, Nancy Bernstein, Ellen Beberman and Allan Goldhammer.
In my various volunteer roles, and at many Revivals, I shot a lot of photos of friends and others supporting Clearwater. Several have been printed in the Navigator, as well as several by my grandfather, of the Hudson and its vessels before 1920. I occasionally dig out a photo, scan it and post it in response to some online discussion – such as the day Clearwater returned to the Piermont Pier with its splintered bowsprit lying across the foredeck. I also shot some of the earliest photos and video of early Arm of the Sea Players when they debuted during Pumpkin Sails.
Eloise and I continued living in Rockland County for eight years. We would drive with our two kids down the Piermont Pier to catch deck lines whenever Clearwater visited. Later, while living in Central Jersey, Eloise recommended Clearwater's school programs to our daughter's teacher, and her class went on a learning voyage on the Mystic Whaler. Our children went with us on many member sails, sometimes with cousins in tow. We attended Revivals as a family until the kids went off to college, and Eloise and I have continued going together, with me lately sharing digital photos of friends performing. Clearwater's place on the Hudson can not be understated, changing the lives of an innumerable number of individuals and families just like mine. I am so grateful for the moments I have spent with this community, and hope to see the sloop sailing the river for many years to come.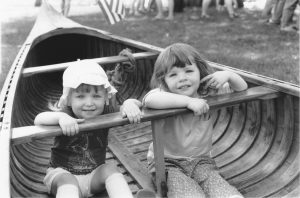 Daniel
The memories in the Generations Story Archive share why grassroots generosity and community action are powerful forces for good. We need your help to create lasting memories like these.