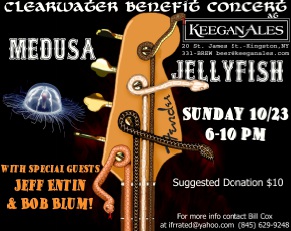 Medusa Jellyfish, Jeff Entin & Bob Blum to Play Sunday, October 23 Fundraiser at Keegan Ale House
Medusa Jellyfish, with lead singer Clearwater's own Linda Richards, along with Jeff Entin and Bob Blum will perform at a concert to benefit Hudson River Sloop Clearwater and HRMM and the new Kingston Home Port. The two bands are donating their time and talent to raise funds for the environmental group at the event taking place 6 :00 PM- 10:00 PM, Sunday, October 23rd, at Keegan Ale House, 20 Saint James Street  in Kingston, NY.
Music starts at 6:00 PM with Jeff Entin and Bob Blum.  Medusa Jellyfish will perform from 7:30 PM – 10:00 PM. The public is invited to come dance and enjoy the evening.
Suggested donation is $10.
For more information, contact Bill Cox at ifrrated@yahoo.com, 845-629-9248, orKeegan's Ale House at Beer@Keeganales.com or (845) 331-BREW.