By Maija Niemisto, Director of Shipboard Programs
In Hudson, NY on Thursday, October 6th the crew awoke to a foggy morning on the river and gathered up armloads of tanks, buckets, live fish, nets, charts and microscopes and headed away from the water.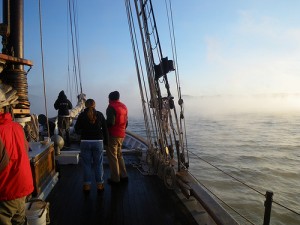 That day, Clearwater's crew had the unique experience of connecting with a group of 8th graders from Hudson Intermediate School in their classrooms as an introduction to our three-hour Sailing Classroom program. We brought the Hudson River to them, visiting the students before they sailed,  and were able to enhance the impact of our onboard education program.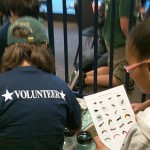 Onboard Educator, Tom O'Dowd led a hands-on program where students identified fish and plankton and studied navigational charts of the Hudson River, and  generated interest in the river and her living creatures.
Crew and volunteers also worked with the students in a city-planning activity that connected their community with the Hudson's ecology. They were given the challenge of designing a green city that supported their societal needs, while protecting the fish and plankton they had just observed, and preparing for climactic events like Hurricane Irene. Each group presented their town drawings in a mock city-planning meeting and discussed the benefits, similarities, and challenges presented in each draft. The students came up with creative and innovative ideas for a new river city that could support human and non-human needs, and then discussed their own town's ecological impact on the Hudson River.
As a result of our classroom visits, students gained a meaningful connection to their watershed and an understanding of how intentional actions must be taken to preserve a balance between habitats for humans and fish. And this was just the beginning…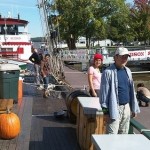 The following week, on October 11th the students woke to a foggy morning in Hudson and gathered up armloads of books, jackets, bags and lunches and headed down to the water. The familiar faces of the crew stood by to help them aboard and continue their exploration into the estuary. The students caught fish that they recognized, tested the water to see how their town was affecting its quality that day, and reviewed navigational charts, all while sailing the beautiful sloop past their homes.
The Hudson Intermediate School eighth graders gained so much more from their Sailing Classroom experience aboard Clearwater because of the foundation laid for them in their school. As the crew continues striving to reach young people in a meaningful way, we find that pre-sail and post-sail programs help tremendously in reaching higher levels of understanding in complex topics such as bioaccumulation, riparian rights, combined sewage overflow and community organization. It is vital that the young citizens of Hudson River towns gain awareness about their watershed and their future roles as our environmental leaders.
Through the Herculean efforts of Clearwater's tireless crew, a seed of ecological consciousness was sown in the minds of the Hudson Intermediate School 8th graders, in addition to thousands of young people who sailed with us and experienced our programs this year.