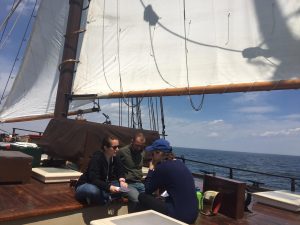 The time has finally come for the Whaler Education Team to transit to the 79th Street Boat Basin. Our journey started with calm waters that looked like glass. We got to see jellyfish and had hoped to see a whale, with no such luck. As the dense morning fog lifted we were able to see the green on the trees and spent the day traveling on the Long Island Sound.
Our second day was beautiful as we set the sails and sailed closer to our destination. On our way we picked up fresh clams from a fisherman that had just pulled them straight from the water. We ate clams and s'mores as we enjoyed a stellar sunset.
On Day 3 we traveled into New York City passing under bridges and reflected on the journey immigrants lived as they passed through Ellis Island. It's getting us excited to begin education sails to spread the word how amazing the Hudson River is!
–Emilie and Erin, Mystic Whaler Education Team