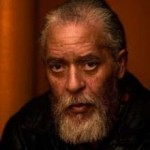 Tom Winslow was one of the original Clearwater crew members and Sloop Singers. He died on October 23 at the age of 69 in Albany, NY, due to complications from a stroke.
Tom is known for writing and performing "Hey Looka Yonder (It's the Clearwater)," a fundraising anthem for the construction of the sloop that appeared on the album "Tom Winslow" in 1969 on Biograph Records. The song is significant as it represents the first environmental song by an African-American song-writer, and predates Marvin Gaye's "Mercy Mercy Me (The Ecology)" by two full years.
After moving to upstate New York from his native North Carolina in the early 1960s, Tom met Pete Seeger at a concert in Albany. Before the sloop was ever launched, music was the foundation of the organization. Pete Seeger and his supporters raised the first few dollars for the sloop's construction by performing songs about the river and passing around a banjo to collect donations. "Hey Looka Yonder (Its the Clearwater)" was Peter Seeger's and Tom Winslow's major collaboration. Click here to listen to Winslow performing the song.
Tom performed many times with Pete Seeger. He recently performed onstage with his daughter Thomasina Winslow at the 2010 Clearwater Festival and Great Hudson River Revival, and continued to perform in Upstate New York until shortly before his death. He is the father of Gary Winslow, also a notable performing artist.
During the 1960s, Tom traveled the country playing at festivals and clubs and serving as artist in residence at colleges and universities where he conducted workshops in folk and acoustic blues. During that time he quickly changed his musical focus to "human activism," including civil rights and environmental causes.