---
In honor of pride month, we want to spotlight one of the ways how Clearwater has supported and amplified the LGBTQ+ community. Hudson River Sloop Clearwater is looking forward to hosting their Youth Empowerment Programs again this summer onboard the sloop
Clearwater.
Almost every summer since 2001, Hudson River Sloop Clearwater has run these incredible programs and is excited to do so again this year after a pandemic-induced hiatus. The Youth Empowerment Programs, which include Young Men at the Helm, Young Woman at the Helm, and LGBTQ+ Allies at the Helm, have introduced Hudson Valley youth to the river through an intensive three-day leadership training program for decades.
While it is officially called LGBTQ+Allies Youth at the Helm, many people colloquially call our third Youth Empowerment Program
"Queerwater."
  The name originated in the 80's when the first large cohort of out LGBTQ crewmembers worked on the
Clearwater
and caught the attention of other boats in the region. They affectionately, (and sometimes not so affectionately), started calling the boat Queerwater, a play on
"Clearwater."
Over time, the crews of the 80's and beyond embraced the name, which now serves  as the unofficial, much adored name of Clearwater's Youth Empowerment Program for the LGBTQ+ community.
"Our Youth Empowerment Programs change lives. Teenagers challenge their bodies, minds, and world views while setting a course for their futures aboard our beloved boat." said Maija Niemisto, former Education Director at Clearwater.
Current Program Director Ruthie Gold adds, "Opportunities like our Youth Empowerment Programs are particularly important for teens after the isolation and loss of learning they have experienced throughout the pandemic. These programs offer teens the chance to form an authentic community with like-minded peers from all over the Hudson Valley in the most wonderful place – onboard the
Clearwater.
"
Participants involved engage in a wide range of physical and academic activities in small groups and as a team. Under the supervision of
Clearwater educators, the group sets sail, deploys fish nets, re-writes sea shanties, and camps alongside the river. In Queerwater in particular, groups also examine development of environmental and LGBTQ movements, and explore how to be an intersectional leader as sailors or in other professions. Offering encouragement and guidance to those coming behind them, many of Clearwater's former crew who identify as LGBTQ + return for the program, work as staff, seasonal crew, or volunteers. Several of our female (or female identifying) speakers in our
She Sailor Sea Stories
events shared this same narrative, celebrating Clearwater's legacy of creating a community aboard for women to lead, be their most authentic selves, and belong. Clearwater was, and remains, a safe place, to live and explore oneself, to grow, and to excel. LGBTQ+ Allies at the Helm is a free program to participants and funded through grant and private donor support.
"Queerwater is an amazing program that I participated in as a crew member in the past," said former Captain Aleythea Dolstad. "It was so gratifying to be able to sail with the Hudson Valley LGBTQ community as their captain."
"Queerwater gives people who don't always have a space to fully be themselves a chance to bond, let down their guard, and push their limits," said Keene Morrow, Clearwater's former Sail Program and Logistics Manager. "People get to learn more about themselves and their community and see the breadth of opportunity for where you can go with environmental activism, all while sailing on one of the most beautiful rivers in the country."
In addition to the upcoming LGBTQ+Allies program, Clearwater will host Young Women at the Helm this summer. Open to 14-18-year-olds, program days are spent sailing on the sloop while exploring river ecology, water quality, and navigation. At night, participants camp on shore, meet with guest speakers, and relax alongside the beautiful Hudson River. Clearwater's Youth Empowerment Programs are currently accepting applications. For more information or to apply to participate, visit Clearwater.org/Education/YEP.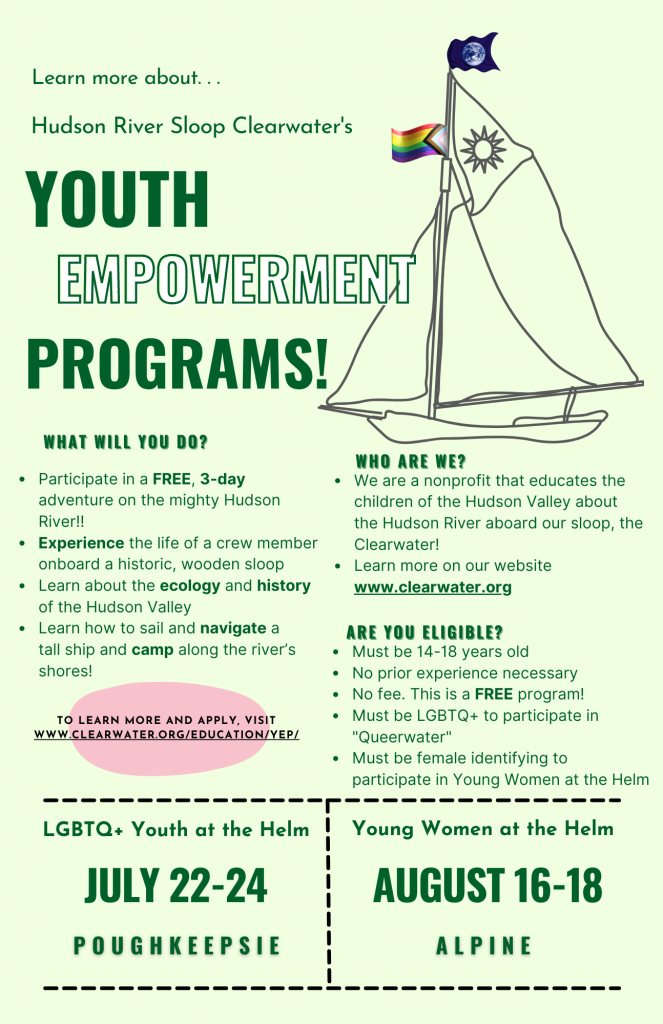 Uplifting LGBTQ+ Voices and Their Allies