January 2022 Environmental Action Update
New Emerging Contaminants Legislation Signed in Albany:  This new law will establish the most comprehensive drinking water testing and notification program for PFAS in the country.
23 PFAS will be included on the NYS Department of Health's (DOH) first list of emerging contaminants.

14 other toxic chemicals, including 4 PFAS, will be included on DOH's second emerging contaminant testing list.

DOH will be required to update the list and add new contaminants at least once every three years.
Before testing can begin, DOH must set notification levels for the 23 PFAS identified as emerging contaminants.  If a contaminant exceeds its notification level in drinking water, the public must be informed of it.  Advocates are now urging DOH to set the lowest and most health-protective notification level for each PFAS.  There is no known safe level of PFAS in drinking water.
Manna Jo Greene, Environmental Director of Hudson River Sloop Clearwater, said:  "In 2022 we will celebrate the 50th anniversary of the passage of the Clean Water Act.   We have come a long way to restore water quality and protect water resources over the past 50 years, however PFAS and other emerging contaminants have since contaminated drinking water for many communities in New York and beyond.  This legislation will expand the list of chemicals that will now be regulated to protect public health and ensure safe drinking water, as the Clean Water Act intended.  Clearwater is very grateful to the Bill's sponsors, Senator James Skoufis, and Assembly Health Committee Chair Richard Gottfriedand, and the NYS Legislature for promulgating this important legislation, and to Governor Hochul for signing it into law."
---
Solar Mapping Project:  Working not just to stop harmful projects, Clearwater is actively promoting the transition to a Renewable Energy Economy with storage and efficiency — and other climate solutions.  Using Scenic Hudson's excellent Solar Mapping Tool, twelve municipalities in the Mid-Hudson Region recently participated in a 5-session program to help define good-to-excellent areas for developing solar and other renewables and storage, as well as areas that need to be protected or avoided and areas that  could be beneficial if there were better grid interconnection capabilities.  Clearwater and Scenic Hudson are facilitating this pilot project to advance the wise development of solar and other renewable energy infrastructure, which is so urgently needed.  This program will be repeated severa; times this year, so please encourage your municipality to participate, if they haven't already.  If interested, please contact:  mannajo@clearwater.org 
---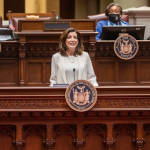 State of the State: Governor Hochul's first State of the State prominently featured a commitment to fighting the climate crisis and improving New York's environment.  Between a $4 billion Bond Act, a $500 million investment in offshore wind, and a plan to achieve 2 million electrified or electrification-ready homes by 2030, there will be a lot of work to do to transition New York to having a carbon free economy. Much work must still be done to ensure that renewable energy infrastructure with storage and efficiency is implemented, that the grid is updated, and that there are good paying, green collar jobs available to all.
We thank Governor Hochul for ensuring cleaner, safer drinking water by signing the new Emerging Contaminant legislation at the end of last year.  Clearwater looks forward to working with Governor Hochul to protect the Hudson River and everyone living in its watershed and beyond.
---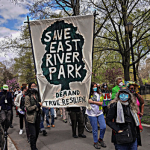 East River Park Plan:  The East River Park in Manhattan is on track for demolition to implement a climate resilience plan proposed by the City.  Due to the increased risk of flooding from climate change, the City has proposed razing the park and rebuilding it in a way to deter storm surge.  The plan would remove nearly 1,000 mature trees and elevate the land with eight to 10 feet of fill. Trees have already been cut down despite a stop-work order from an appeals court judge. During the planning process, the community's input was limited and concerns were dismissed. The park is not only a rare undisturbed urban ecosystem, but it also provides oxygen and is a barrier to prevent vehicle pollution from permeating the nearby community.  This plan has faced significant opposition from residents as it would destroy a community park, and does not adequately address coastal resilience in an ecologically-sound way. https://thevillagesun.com/court-rejects-lawsuit-blocking-work-on-east-river-park-resiliency-project
---
Proposed Changes to Enhance Regulation of PFOA and PFOS: New York State's regulations for the clean-up of contaminated sites that will advance efforts to revitalize communities and protect public health and the environment statewide. The proposals would create new cleanup standards for the oversight of the emerging contaminants perfluorooctanoic acid (PFOA) and perfluorooctanoic sulfonate (PFOS), strengthen the implementation of the State's successful Brownfield Cleanup Program, and enhance State Superfund and other cleanup programs. 
https://content.govdelivery.com/accounts/NYSDEC/bulletins/3022d9f
---
Events of Interest:
Thurs., Jan 13. 6:30 – 7:45 p.m. The Green Amendment: How It Will Change NY's Environmental Future (online): In 2021,  New York State voters chose to add the green amendment to the state bill of rights. The right to clean air, water, and a healthful environment is now a part of our constitution. What does this actually mean for the legal process?  This panel will explore the concrete ways the green amendment will change New York's environmental quality.  Please Join Clearwater and environmental law experts in a topical and substantive discussion!Register Here: https://zoom.us/webinar/register/WN_a8LVGlnsQ9WBwgSU3auVEg
Thur., Jan 20. 4:30 – 5:30 p.m.  Chronogram Webinar on NY's CLCPA: Join the Chronogram for a virtual event celebrating the launch of the latest issue of the Clean Power Guide and a look at the practical implications of implementing the CLCPA.
Register Here: https://www.clearwater.org/event/chronogram-webinar-on-nys-clcpa/
Save the Date:  Sun., Feb. 13 at 5 pm (via Zoom).  Former State Senator Jen Metzger will explain the NYS Climate Action Council's Draft Scoping Plan to implement NY's Climate Leadership and Community Protection Act.  Sponsored by Climate Reality Project, New Yorkers for Clean Power, Clearwater and others.  Stay tuned or watch Clearwater's calendar for registration and additional information.