We gathered our ringer Young Women at the Helm (YWH) volunteers early Monday morning at Yonkers and were secure alongside at the West 79th Street Boat Basin by noon. The ship was soon engulfed in a flurry of training, curriculum review, food preparation and, just like the old days, taking on cargo. This time, instead of lumber or corn, the cargo was program materials like journals, spare line for knot-tying lessons, hand-bearing compasses, water bottles, t-shirts, and lots of food.
Julie, the cook on sloop Clearwater, and her helpers, procured and organized all manner of nourishment; hot dogs and hamburgers, chips and crackers, bread in all its different incarnations, cereal, granola, bagels, cream cheese, milk and juice, fruits and veggies and let's not forget the graham crackers, Hershey bars and marshmallows for the S'mores. They spent two days turning it all into hearty meals for almost forty people in a space no bigger than most people's pantry.
Weeks of planning, fundraising and preparation had brought us to the brink of our most innovative program. The preparation for it is almost as interesting to execute as the program itself, and this crew is a well-oiled machine.
Tuesday morning, like secret agents on special recognizance mission, members of the crew fanned out to four different Metro-North train stations—Poughkeepsie, Beacon, Ossining and Grand Central—to meet our oncoming 2009 class of YWH and escort them to the Boat Basin. Meanwhile, the crew aboard the sloop was readying the deck and putting the finishing touches on their program materials. By10 AM we were circled up with the students, chaperones and crew, exchanging names and breaking the ice. We could tell immediately that these young women were exceptional. After an in-depth tour and detailed safety discussion, we got underway and proceeded to go fishing and set sail. Day One of YWH is full of introductory information, and the girls paid close attention, despite the heat, knowing that they'd be performing the very same duties on the sloop in no small amount of time.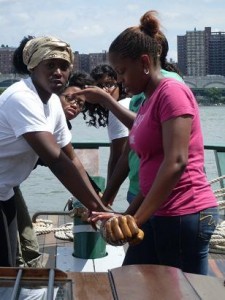 This program, indeed all our programs, is based on learning through hands-on experience, and the conditions on the Hudson River were perfect that day. Beating [link to glossary] into the northwesterly wind provided great visuals of where the wind was coming from and how it affects the sails as we tack, in addition to demonstrating how the Bernoulli's Principle or "lift" works—in other words, how a boat can sail against the wind. It makes for slower progress since you can't sail in a straight line, but luckily the current was nudging us in the right direction.
Brian Mohan, one of Clearwater's onboard educators, was waiting for us when we arrived at the Alpine Boat Basin with the grill ready to go. After some rowing and seining, activities that were met with trepidation but completed with smiles, the students set up their tents and put the boat to bed.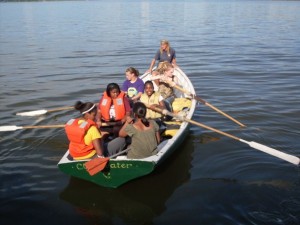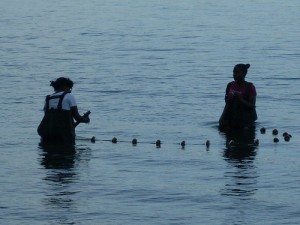 Reward came in the form of hot dogs, hamburgers and fresh, cool watermelon. Needless to say the food didn't last long, and it was on to a quick tour of the historic Kearney House, and then a beautiful bonfire complete with music from Linda Richards and those gooey treats, S'mores. The girls then headed into their tents to get some sleep and be ready for Day Two. Many of the girls had never slept outdoors in a tent before and the following day would hold even more adventures for them.