July 2022 Environmental Action Update
The past month has been full of legal decisions, some of which Clearwater favors and some we strongly oppose.
Clearwater Decries U.S. Supreme Court decision re: EPA Statement: Hudson River Sloop Clearwater Condemns Supreme Court's June 30th EPA Ruling the West Virginia v. EPA Supreme Court decision issued on June 30th to curtail the Environmental Protection Agency's power to regulate carbon emissions. While the decision does not eliminate EPA's authority to regulate greenhouse gas emission, it blocks broad rules that would compel utilities to close fossil-fuel plants and switch to renewable energy sources. This will greatly slow the just transition to a renewable energy economy and progress fighting climate change. Clearwater is opposed to any and all other attacks on the Clean Air Act, our health, and efforts to reduce carbon pollution from the nation's largest emitters. This decision will put environmental protection more squarely in the hands of the states.
A Favorable Decision to Prevent the Danskammer Fossil-Fuel Expansion: 
Clearwater applauds the Court's June 8th, 2022 decision to affirm the New York State Department of Environmental Conservation's authority to deny Danskammer's air permit and views it as a major victory for the Stop Danskammer Coalition and climate advocates across the state. The Court's willingness to uphold the DEC's authority to deny permits under the provisions in the Climate Leadership and Community Protection Act supports the urgently needed transition away from fossil fuels to a renewable energy economy with storage and efficiency. When the initial denial of Danskammer's air permit was issued in October 2021, DEC Commissioner Basil Seggos stated that "The proposed project would be inconsistent with or would interfere with the statewide greenhouse gas emissions limits established in the Climate Act."  See full statement here: 
Clearwater Statement Regarding the Court's Decision to Uphold the NYS DEC's Denial of a Title V Air Permit
Emerging Contaminants
: 
Clearwater celebrates recent EPA proposed Health Advisory Limits (HALs) for two toxic chemicals: PFOA and PFOS. 
The U.S. EPA has proposed new health advisory levels (HALs) for two toxic chemicals in drinking water: PFOA and PFOS, which
are members of a chemical group called per- and polyfluoroalkyl substances (PFAS).
 EPA proposed a HAL of 0.004 ppt for PFOA and a HAL of 0.02 ppt for PFOS. Health advisory levels are non-enforceable but clear guidelines for how much of a chemical in drinking water is safe – or if exceeded, unsafe. EPA's newly proposed HALs are 1,000 times lower than EPA's current health guidance of 70 ppt, and far below New York's Maximum Contaminant Levels of 10 ppt each for PFOA and PFOS.  Maximum Contaminant Levels are enforceable standards that require water utilities to clean up their drinking water if exceeded. These fire-fighting chemicals are present in Newburgh's drinking water supply at Washington Lake, caused by run-off from Stewart Air National Guard. Fortunately the City has access to the clean NYC water supply until a remediation is complete.  PFOA and PFOS are also found in Rockland County, Hoosick Falls and many other water supplies.  This is an important lesson in the value of practicing the
precautionary principle
, because an ounce of prevention truly is worth many thousands of dollars of remediation and health impacts that could have been avoided.
Climate Leadership Community Protection Act
:
  Clearwater's Environmental Action Director was featured in two recent videos:
The Climate Leadership Community Protection Act will set the pace for New York's renewable energy future.  It is an important piece of work that is still very much in progress.  This is a brief and comprehensive explanation – well worth 16 minutes of your viewing time.

https://youtu.be/5_VvvDjvtE0f

Battery Storage, Solar Mapping and Green Infrastructure: 6 minute video on three important topics for New York's transition to a renewable energy economy.

https://youtu.be/t0ykTi7Ic6M

 
Events of Interest:

Weds., July 27:  Decommissioning Oversight Board Meeting: 
The
NYS Department of Public Service docket
Matter # 21-01188
:
In the Matter of the Indian Point Closure Task Force and Indian Point Decommissioning Oversight Board
.
The next meeting of the Indian Point Decommissioning Oversight Board will be held on July 27 st the Cortlandt Town Hall, 1 Heady St., Cortlandt, NY 10567 or virtually at:  Electronic Access:  Click
here
or go to
www.zoom.us/join
Event Number: 894 3462 9738 Passcode: 303534
Phone-Only Access: 1-929-205-6099 Access Code: 894 3462 9738 
Members of the public are welcome to attend and ask questions during the public forum.  If you plan to participate, DPS requests that you pre-register and submit your questions by July 26 using the following form:
https://forms.office.com/g/W69MZq8N8h
.


Now through August 9:  Summer 2022 Municipal Solar Mapping Tool Training
on five Tues. evenings from 7 – 8:30 p.m.:   Here is a good
overview and outline of the training
.
  If interested in participating, please register here: 
HERE
(it is not too late to join because we record each session and can send a link for any you miss.)  Sponsored by Hudson River Sloop Clearwater and Scenic Hudson, we have received rave reviews from the Fall 2021 and Spring 2022 cohorts, whose municipalities are increasingly empowered to take a leadership role in the urgently needed transition to a renewable energy economy with storage and efficiency.  For more information, please contact
mannajo@clearwater.org
845-807-1270.
Tues.- Sun., Aug. 2 – 7:  Climate Education Booths and Green Living Expo at 2022 Ulster County Fair:
 Volunteers needed to help green the Fair by staffing the Ulster County Climate and Sustainability Education booth to help answer questions about the Climate Crisis and to provide Climate Solutions.  Training and passes will be provided to volunteers.  Please contact Manna Jo Greene:
mannajo@clearwater.org
845-807-1270 or  Kim Mayer at
kjwalkermayer@gmail.com
917-326-2505 to volunteer.  If you are ready to sign up, please register
here
. 
We are also seeking vendors for the Green Living Expo at the Fair who utilize sustainability practices or provide climate solutions products or services.  Vendors should contact the Fair directly to register:  Ulster County Fairgrounds, 249 Libertyville Road, New Paltz, NY 12561,
https://ulstercountyfair.com
and let us know as well.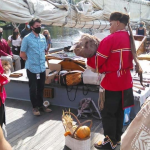 Fri., August 5:
Nicholls Treaty Renewal Ceremony: 
Clearwater will again host this sacred peace celebration, which this year will include a Peace Tree planting at the Rondout in Kingston and a ceremony on the Clearwater.  Chief Vincent Mann,
Clan
Chief
of the Ramapough Lunaape Nation
and other First Nation leaders from the region will lead the ceremony.