Happy New Year!  In the final days of 2022, Governor Hochul signed several important bills into law, which will have lasting impacts on the waters of the Hudson Valley and communities across the region and state for years to come, including:
Cumulative Impacts bill

(A.2103-D / S.8830): The signing of the "Cumulative Impacts" bill amends the State Environmental Review Act (SEQRA) to require comprehensive evaluation of pre-existing environmental and public health stressors in the community surrounding the location of any newly proposed facilities. The bill could save the lives of millions of New Yorkers by preventing the approval of facilities that would pollute in already overburdened communities and deny the re-issuing of permits for existing facilities if they fail to reduce their emissions in the communities where they operate.

30×30 bill

(S.6191-A /A.5390-B)

,

mandates the protection of 30% of the state's land and water by 2030, and is key to combating the climate and biodiversity crises. It emphasizes food security and sustainability, restoration of biodiversity, climate resiliency, and expanded access to nature for all.

Digital Fair Right to Repair Act

(S.4104-A / A.7006-B) made New York the first state in the nation to guarantee the right to repair digital electronic parts and equipment by requiring manufacturers to make diagnostic and repair information available.

Carpet Stewardship Law

(S.5027-C / A.9279-A ) which requires carpet manufacturers to establish a program for the collection and recycling of discarded or unused carpeting.
Unfortunately, the Governor declined to sign the bill to Expand Stream Protections (S4162/A6652) to add protections for Class C Streams, which are designated as supporting fisheries and suitable for non-contact activities, are not protected from threats such as pollution or overdevelopment and may feed into drinking water supplies.  Perhaps the Legislature can remedy this in upcoming budget negotiations.
EXTENDED:  The public comment period for the New York New Jersey Harbor and Tributaries Coastal Storm Risk Management Feasibility Study (NYNJ HATS) for the Draft Integrated Feasibility Study and Tier 1 Environmental Impact Statement has been extended to March 7, 2023.  The study, a result of the Disaster Relief Appropriations Act of 2013 charged the U.S. Army Corps of Engineers (ACOE) with studying and selecting potential solutions to mitigate the impacts of coastal storms on the Harbor and Hudson River.  In 2018, five proposed alternatives were unveiled for public comment, ranging from No Action (relying on existing measures and those already in the planning process) to constructing massive in-water storm barriers that would have closed the Hudson River off from the Atlantic Ocean during storms.  Not only would the massive in-water barriers be an existential threat to the Hudson River ecosystem, but would also do nothing to address sea-level rise or heavy precipitation events.  For example, during Superstorm Sandy, storm surges at Indian Point were 11 feet high.   After significant public outcry, and a several year funding gap, the ACOE has tentatively selected Alturnatie 3B, consisting of Multi-basin Storm Surge Barriers with Shore-Based Measures. Learn more about Alternative 3B and review the Feasibility on the ACOE website.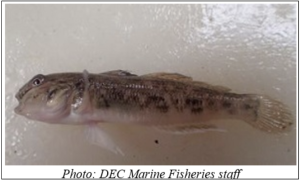 Invasive Species: Round Goby and Aquatic Invasives:  The round goby is a fresh and marine invasive species which has entered the Hudson River Estuary from the Great Lakes via the Erie Canal. Native to Eurasian fresh and marine waters, the goby was first documented in the Hudson River for the first time in July 2021, when several were captured  south of Troy, and has now been documented  as far south as Marlboro, just off Danskammer Point. Round gobies both out-eat and outcompete native species, consuming mussels, small invertebrates, mussels, and the eggs of native species, including smallmouth bass and walleye. If you suspect you caught a round goby, take photos of the fish on a dark background with a common object for scale, and collect the GPS coordinates of where you captured it. Dispose of the specimen into a trash receptacle on-land.  Submit the photos and coordinates to isinfo@dec.ny.gov.
New York Climate Leadership and Community Protection Act (CLCPA) Update:  The New York State Climate Action Council voted to finalize the Scoping plan for the CLCPA after receiving more than 35,000 written comments as 2022 came to an end on December 19.  You can read the full 445 page report here or the Executive Summary here.  An historic measure signed into law in 2019, the CLCPA put New York on a path to generate 70% of its electricity from renewable energy by 2030, 100% by 2040, and to reduce statewide greenhouse gas emissions by 85% by 2050.  Learn more about the CLCPA.
Save the Date!  Upcoming Indian Point Decommissioning Oversight Board Forums:  To ensure the safest possible decommissioning of Indian Point and to serve as a model for future decommissionings, Clearwater is working with the United for Clean Energy Convergence to bring a series of medical, emergency planning and other experts to members of the DOB and the public at large.  Speakers are being confirmed with details to follow.
Jan. 26  Potential Health Impacts of Indian Point  Decommissioning

Feb. 2    Decommissioning Oversight Board meeting with guest experts

Feb. 16  Emergency Planning and Response, Monitoring and Cask and Canister Issues
Events of Interest:
Mon., Jan. 16:  MLK Parade, Beacon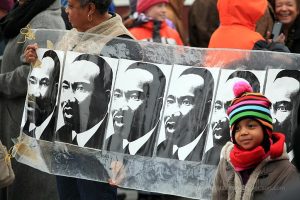 The Rev. Dr. Martin Luther King, Jr. Parade was founded by Pete Seeger.  It was Pete's dream to have an annual singing parade to honor Dr. King.
9 am Opening Ceremony inside Springfield Baptist Church, 8 Mattie Cooper Square, Beacon, NY

9:30 Parade starting in front of the church

 

Parade route:  East on Mattie Cooper Square, also called Church St; South on North Walnut St.; West on Main, North on Willow; East on Mattie Cooper Square, returning to the church
Carry positive posters, banners, and American flags. There will be cars for anyone who would like to ride rather than walk.
11 a.m. Following the Parade a program by the Southern Dutchess Coalition will honor the Rev. Dr. Martin Luther King at the Springfield Baptist Church Southern Dutchess Coalition. 




For further info, please call Bonnie Champion at 845-264-5663  or email

bonniejchampion@gmail.com

or go to

beaconsloopclub.org
Clearwater contingent:  We have banners and posters if you would like to join the MLK March to be sure there is a strong Clearwater presence.  Please contact mannajo@clearwater.org or call 845-807-1270.  
Tues., Jan. 17, 2-4 pm and 6-8 pm:  U.S. Army Corps of Engineers NYNJ HATS Public Meeting  Community Room, Community Board 18, 1097 Bergen Avenue, Brooklyn, NY, 11234
The U.S. Army Corps of Engineers (USACE) New York District has announced an in-person public meeting for the New York New Jersey Harbor and Tributaries (NYNJHAT) Coastal Storm Risk Management (CSRM) Feasibility Study.  The purpose of the meeting is to inform the public of the NYNJHAT Study Draft Integrated Feasibility Report (FR) and Tier 1 Environmental Impact Statement (EIS) and the Tentatively Selected Plan (TSP), and to solicit public feedback on this tentative plan selection to manage coastal storm risk in the Study Area.  The Draft Integrated FR/Tier 1 EIS is posted to the Study website at: https://www.nan.usace.army.mil/NYNJHATS
Additional virtual and in-person public meetings in locations around the study area are being planned and will be advertised in advance. 
Tues., Jan. 24:  Kick Fossil Fuels Out of Buildings Lobby Day, Albany NY and Virtual
Celebrate the strong building sector provisions in New York's Climate Action Plan, learn more about the Renewable Heat Now bill package for the upcoming legislative session, hear from several bill sponsors and learn about the dynamic and impactful  Sign up for the Day of Action. Note, prior registration is required to participate.