April 2023 EA E-News Update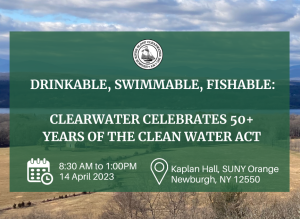 Clean Water Act Symposium:  In honor of the 50th anniversary of the Clean Water Act, Hudson River Sloop Clearwater is hosting a symposium,  Drinkable, Swimmable, Fishable: Clearwater Celebrates 50+ Years of the Clean Water Act  on Friday, April 14, 2023 from 9 a.m. to 1 p.m. at SUNY Orange (Kaplan Hall), Grand St, Newburgh, NY 12550 
REGISTER TO ATTEND:  https://tinyurl.com/yppj6jt3
Indian Point Campaign:  CLEARWATER CONDEMNS RUSH TO DISCHARGE RADIOACTIVE WATER  INTO HUDSON RIVER
Last week, Holtec accelerated their timeline for discharging radioactive wastewater — up to 45,000 gallons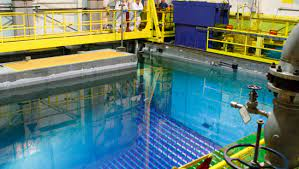 from the Unit 2 fuel pool now occurring as early as May 4 – three months sooner than previously scheduled.   In February 2023, Holtec informed the Indian Point Decommissioning Oversight Board of plans to release up to one million gallons of treated, but still radioactive water into the Hudson River as soon as August of this year.  Clearwater and our allies held a series of expert forum on the Public Health and Safety Impacts of DEcommissioning Indian Point, which led to the passage of 10 municipal and county resolutions in opposition to the releases in the weeks following the initial announcement, and New York State Senator Harckham and Assemblymember Levenberg introduced legislation (S.5181/A.5338) to prohibit the discharge of any radiological agent into the waters of the state.
Clearwater is calling for urgent action to pass the Harckham-Levenberg bill and for Governor Hochul to sign it into law before May 4th to stop Holtec's releases of radioactive wastewater into the Hudson River. Learn more about the risks unsafe decommissioning practices pose to local communities and the Hudson River by watching recent educational forums convened by Clearwater and our allies. Watch the recordings.
Take Action:
Call or email your NYS Senator and Assemblymember and urge them to support S.5181/A.5338

Tues., April 25, 6 p.m. Offer Public Hearing: Indian Point Decommissioning   Pre-register here. 
Weds., April 26, 2 p.m.   Westchester County Executive George Latimer will hold a press conference with 3-4 county execs coming out in opposition to Holtec at 2 p.m. at the Westchester County Office Building, 140 Martine Ave, White Plains.
Join the April 27 Rally to Stop Holtec  from 4:30 to 5:30 p.m. outside the Cortlandt Town Hall, 1 Heady Street, to protest the proposed discharge of radioactive water into the Hudson.
Thurs., April 27, 6 p.m.  Attend the  Decommissioning Oversight Board meeting at Cortlandt Town Hall.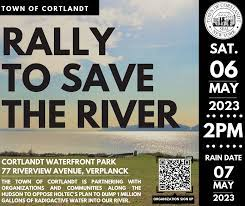 Sat., May 6, 2 p.m.  Attend the Rally to Save the River at Cortlandt Waterfront Park, 77 Riverview Ave., Verplanck.r by Opposing Holtec Discharge of Radioactive Water into the Hudson.  Cortlandt Town Supervisor Richard Becker is hosting the event at the Cortlandt Waterfront Park, 77 Riverview Ave., Verplanck.   

Note:  If we cannot prevent the release of radioactive water into the river, we will have to cancel the flotilla of paddle boats so near the plant, which recreational boaters from up and down the river have planned.
Kudos to Riverkeeper for their recent webinar: Say NO to Indian Point Radioactive Wastewater Discharges into the Hudson River.   It includes important details about Holtec's plan to discharge tritium-contaminated water, and how we can all take action to prevent these discharges. The slides from the presentation are available here:
Emerging Contaminants:  EPArecently  announced proposed PFAS drinking water standards, and they amount to a historic victory.  EPA is proposing MCLs of 4 ppt each for PFOA and PFOS (plus non-enforceable MCLGs of 0 ppt), as well as a new "hazard index" for 4 additional PFAS (PFNA, PFHxS, PFBS, and GenX).  EPA hopes to finalize the proposal by the end of 2023/early 2024. This is exactly what we've been asking the NYS Department of Health to do!  EPA proposed enforceable limits on 6 types of PFAS "forever chemicals" in drinking water.  This is a good first step, but the rules don't go far enough.  Tell EPA to regulate ALL PFAS chemicals to keep our drinking water safe: http://lil.ms/kyfy/5rfgwe 
News from the Hudson River Estuary Program:  Recovery Plan for Hudson River American Shad Released.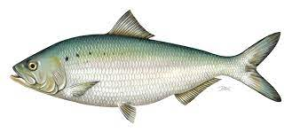 DEC has recently released the Recovery Plan for Hudson River American Shad (PDF).  American shad is an economically and ecologically important migratory fish species that once supported a robust fishery in the Hudson River.  Decades of intense fishing pressure coupled with years of low reproduction and non-fishing-related mortality events have further impacted the stock's resilience and exacerbated declines.  Significant actions have been taken to improve the Hudson River shad stock since the 2010 closure of the New York fisheries for shad, including reduced mortality at industrial water intakes and ocean-bycatch caps.  However, conservative management and considerable patience are needed to return the Hudson River shad stock to levels with enough resilience for commercial and recreational harvest. As this plan also outlines, the short-term objective is to reopen the catch-and-release fishery while supporting the long-term recovery objective of returning the stock to 1940s' levels.