August 2022 Environmental Action Update
Climate Leadership Community Protection Act (CLCPA):  New York's Climate Act is the most progressive in the nation, calling for 70% renewable energy generation by 2030 and other significant greenhouse gas reductions.  Clearwater's Environmental Action team worked collaboratively to put together a substantial set of comments, on the Climate Action Council's Draft Scoping Plan, a Summary of which can be viewed here and full comments are here.  Special thanks to Peter Capek for his work on the water section and to Summer 2022 interns John Mesaros and Lucy Hunter for the tireless help with these and the 7-County Mid-Hudson Regional Sustainability Coalition's Energy Working Group Comments' which we coordinated.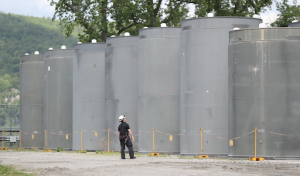 Decommissioning Oversight Board (DOB) Meeting: 
On July 27, the NYS Department of Public Service convened a meeting of the Indian Point Decommissioning Oversight Board at the Cortlandt Town Hall. While there was increased public participation, most of the questions were directed to Richard Burroni, Holtec Site Vice President at Indian Point, with very little questioning of the occasionally conflated or greenwashed remarks he offered.  Clearwater and our allies will continue to urge the Public Service Commission to bring in independent experts, instead of relying on Holtec, who has their own interests to protect.  Unfortunately, the Nuclear Regulatory Commission often grants waivers and exemptions to the industry, some of which put the public at risk.
Summer 2022 Municipal Solar Mapping Tool Training is wrapping up.  The purpose of the training is to empower municipalities to take a leadership role in implementing solar energy and other renewables, with storage and efficiency wisely.  Details are here.  A Fall 2022 training is planned.  If you would like to participate or know anyone who would be, please contact mannajo@clearwater.org.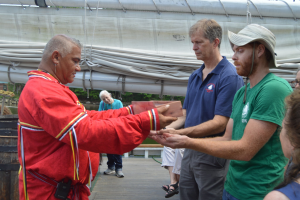 Nicolls Peace Treaty Renewal Ceremony:  On Aug. 5  Clearwater hosted this sacred peace celebration, which this year included a Peace Tree planting at the Visitors Center and a beautiful ceremony on the Clearwater at our homeport at the Hudson River Maritime Museum.  Chief Vincent Mann of the Ramapough Lunaape Nation Turtle Clan led the ceremony with other First Nation leaders in attendance.  Clearwater was gifted with a beautiful ceremonial pipe to use as part of our teaching about First Nation traditions, here accepted by Captain Rory Kane and Executive Director David Toman.  Ulster County Clerk Nina Postupak, who safeguards the original treaty and belt in the County archives, was in attendance, as was Kingston Mayor Steve Noble and others.. The treaty is available for viewing anytime at the Ulster County Office Building. .
Climate Row at Ulster County Fair and Bon Odori Celebration:  Clearwater Environmental Action joined eight other non-profits and the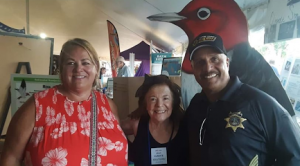 Climate Smart Communities at Climate Row as part of the Climate Education Center on August 2-7 to reach thousands of fairgoers with information on Climate Science and Solutions.  Many thanks to Clearwater volunteers Eugene Hammond and Nora Gallardo-Hamond, Richard Binkele, Andi Feron, Andrew Fischer, Allan Goldhammer, Lucy Hunter, Robert Miglino, and Chelsea Villalba for helping to staff 4-hour shifts and engage adults and children as well.  A crossword puzzle raffle and a spin wheel with climate related questions drew the attention of both children and adults.  Photo:  Manna Jo Greene with Ulster County Legislator Gina Hansut and Sheriff Juan Figueroa.
On August 6, we also participated in the Bon Odori Festival at T.R. Gallo Park in Kingston, where Board Member Sarah Underhill tabled and EA Director Manna Jo Greene spoke on "Why Nuclear is Not a Climate Solution."
The Inflation Reduction Act of 2022 (IRA),  This long-awaited legislation recently passed the Senate and the House is scheduled to vote on it on August 12.  Unfortunately, one of the major provisions in the bill is Section 13105, the "Zero-Emission Nuclear Power Production [Tax] Credit" (Nuclear PTC), which is similar in most ways to an identically-titled provision in the Build Back Better Act (BBBA, or H.R. 5376), which was proposed in 2021. Two important changes to the Nuclear PTC in the IRA are a change in the formula to calculate the subsidy, potentially increasing it significantly, and the duration of the program, which has been extended to nine years from six years in the BBBA – increasing the subsidy to the nuclear industry from $35.3 billion (2022-2027) to $53.5 billion through 2032 – a more than a 50% increase from BBBA.  With the new formula the amount could be much higher.  This funding would much more wisely be invested in renewable energy with storage and efficiency, which does not result in many thousands of tons of high level nuclear waste, for which there is no good storage solution.
Event of Interest:  
Danskammer Update at the Newburgh Free Library
Thurs., Aug. 11 at 6:45 p.m.