Clearwater works to inspire, educate, and activate youth in order to create the next generation of environmental leaders.
Using the Hudson River and the legacy of Pete Seeger's music and activism as a foundation, Clearwater is preparing young people to become responsible, active, and environmentally conscious leaders of tomorrow. Our education programs create a continuum of lifelong learning for students in the Hudson Valley.
---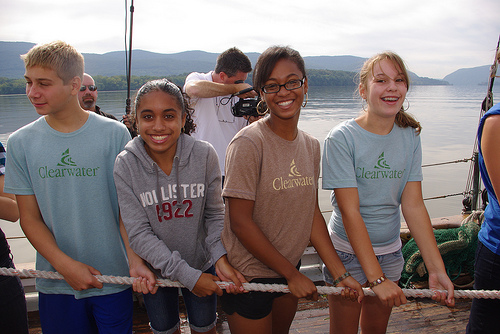 Clearwater's Educational Pipeline Programs:
The Sailing Classroom Program - offering students and community groups the opportunity to sail on the sloop Clearwater aboard America's environmental flagship. Students help catch fish, sail the sloop and study environmental ecology through hands-on inquiry based lessons.
Tideline Programs - explore the banks of the Hudson River with your class at the Esopus Meadows Environmental Center or at your local riverside park. Students study the Hudson through science, music, art and personal experience.
In-School Programs -  a Clearwater educator visits your school and bring Clearwater's educational program and some of the Hudosn River to your classroom. Live specimens, river songs and interactive lessons connect students to their river. Students learn about ecology, Hudson Valley history, and music of the Hudson River.
Power of Song Program  -  an interactive learning experience that exposes students to socially conscious music and empowers them to be active on issues that concern them. Several learning options are available.
Youth Empowerment Programs – a multi-day sailing, camping and leadership training on Clearwater changes the ways participants see themselves and the natural world. Teens are challenged to develop scientific projects, participate in leadership training and learn maritime skills.
Youth Internships - a challenging, live aboard experience, as a junior crew member, where participants learn to sail a tall ship, assist with teaching Clearwater's education programs, become part of a great community and explore opportunities for the future.
Sailing Apprentice -  a month-long employment opportunity to work alongside the professional crew.  Apprentices are trained to operate and care for a traditional sailing vessel and participate in the education program.
Education Internships – a live aboard teaching experience that includes assisting in Clearwater's education programs, teaching thousands of students about the Hudson River, and mentoring volunteers. Interns are participate in shipboard duties as full-time crew members.