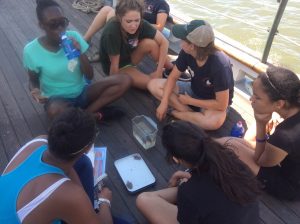 The Mystic Whaler and On-land programs led the charge on River education this spring, with a packed spring season full of programs bringing kids to the Hudson from Kingston to New York City. We brought nearly 200 groups sailing on Clearwater and the Whaler and  helped thousands of students connect to the river. 
Thanks to all of the donations and support from our Clearwater family and members, we completed the final phase of our major hull restoration project and had the Hudson River's environmental flagship back out on the river by mid-summer. Luckily, it was a windy summer and we got to do some great sails. Your donations supported 30 high school students from Albany, the Bronx, Yonkers, Newburgh, New Paltz, Nyack and Brooklyn to spend three days onboard learning community leadership, environmental issues and sail training skills. We also hosted a series of exciting, environmentally-themed public sails covering topics from microplastics to invasive species.
Thanks to you, this fall we did what Clearwater does best: bringing kids out on the river. We were excited to inspire new school groups who had never sailed with us before, and reunite with old friends who have been bringing their class out for decades. We wrapped up the season at our winter home port in Kingston, with a beautiful, sunset sail on Halloween night.
We can't thank you enough for your support in keeping us out on the river. We hope you agree that our programs are an incredibly powerful tool for investing the folks of the Hudson Valley in the future of the River. The foundation of that tool are members, like you, who continue to support our mission and believe in the power of environmental education and music.