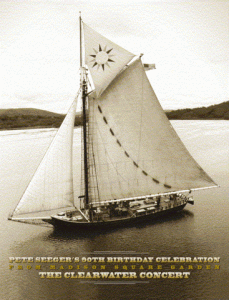 The much anticipated 2-DVD set chronicling The Clearwater Concert, an all-star celebration of Pete Seeger's 90th birthday at Madison Square Garden in New York City last May, is now available for retail purchase online at www.seeger90dvd.myshopify.com. Over 40 renowned musical artists performed at the concert, including Joan Baez, Bruce Springsteen and Dave Matthews, putting their own spin on songs written or inspired by the legendary folk icon and making this once-in-a-lifetime gathering of multi-generational stars truly a remarkable birthday party.
     The Clearwater Concert benefited and helped raised awareness for Hudson River Sloop Clearwater, a non-profit enviromental advocacy and education organization founded by Pete Seeger and others over forty years ago that is dedicated to protecting the Hudson River and creating new environmental leaders. Similarly, all proceeds of this remarkable DVD package will go directly to Clearwater to help further its mission to inspire, educate and activate the next generation toward a green future.
     "This special DVD set is filled with hope and a message, echoed by all of the musicians and audience members present at the concert, that a better world is within our grasp," said Jeff Rumpf, executive director of Clearwater.
     Brimming with over three hours of music and choice interviews, The Clearwater Concert lets viewers relive the concert experience, or join in the sing-a-longs for the first time—it's an inspiring, joyful reminder of how music brings together people who want to make a difference.
     Best of all, The Clearwater Concert DVD is packed with incredible musical moments, many of them ensemble renditions of musical treasures inspired by Pete Seeger. Arlo Guthrie, Richie Havens, Kris Kristofferson, John Mellencamp, Emmylou Harris, Ani DiFranco, Bruce Cockburn, Toshi Reagon, Ladysmith Black Mambazo, Tom Paxton, Billy Bragg, Taj Mahal, Michael Franti, Kate & Anna McGarrigle, Bela Fleck, Tommy Sands, Tony Trischka, Dar Williams, Steve Earle, Bernice Johnson Reagon, Ben Harper, Tom Morello, Oscar the Grouch and more all perform on the DVD. And so does Seeger, who leads the audience in a magisterial rendition of "Amazing Grace."
     Pete Seeger said: "I never expected to see 18,000 people in Madison Square Garden for a birthday party, much less one of my own. Bless you all and bless all the great musicians on stage! This is one of the greatest singing audiences I ever heard in all my life."
     The Clearwater Concert DVD set is retailing for $35. It is not yet known when the DVD will be available in stores.
     Since 1969 almost half a million people have experienced the Hudson River first-hand—its living organisms, water chemistry and ecological principles—aboard the sloop Clearwater, the famed "floating classroom" now recognized as America's environmental flagship. Named to the National Register of Historic Places in 2004 for its role in the environmental movement, Clearwater was among the first vessels in the U.S. to conduct science-based environmental education aboard a sailing ship, effectively creating a template by which such programs are conducted around the world today. Clearwater's environmental education programs now serve more than 15,000 students and their teachers annually, and the organization's members have helped push for passage of the landmark Clean Water Act and fight for removal of toxic PCB's from the Hudson.