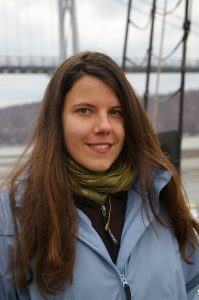 BEACON, NY – Hudson River Sloop Clearwater welcomes Maija Niemisto as the organizations new education director. Niemisto first started with Clearwater in 2008 as an onboard educator. Spending six years as an educator aboard sloop Clearwater helped to cultivate her passion for the Hudson, while honing her teaching and sailing skills.
Clearwater's environmental education programs include the award-winning Sailing Classroom, multi-day youth empowerment programs for young men and women, the Tideline program; a shore-based program at Esopus Meadows, the Aquatic Invasive Species program, in-class programming and Sail Trainee programs.
"We are excited to have Maija return to Clearwater as our new education director," said Dave Conover, Clearwater's Interim Executive Director. "She's in a great position to lead our programs, both on and off the boat. Welcome back, Maija!"
Niemisto achieved a B.A. in environmental studies at the University of Wisconsin-Madison and the American University of Beirut in Lebanon. After her studies, she bought a small sailboat and set out on an adventure to explore the eastern seaboard, which lead her to Clearwater in 2008.
In 2014, Niemisto left Clearwater to pursue an M.S. in Marine Sciences at Stony Brook University and deepened her knowledge of the Hudson River Estuary through research on estuarine fish and zooplankton using a biological acoustic system hosted aboard the sloop.
"I have always been moved by the power of Clearwater's unique ability to connect people with their environment through music and sailing on the Hudson River" said Maija Niemisto. "Clearwater's education program is an inspiration for everyone who participates, and I am thrilled to continue my involvement with the organization as education director."
Dave Conover, who held the position of education director since 2007 will remain Clearwater's interim executive director.