After a one year hiatus to restore the iconic Hudson River sloop Clearwater, the festival will return to Croton Point Park on June 17-18, 2017!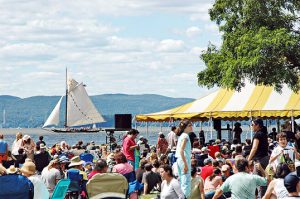 BEACON, NY –Hudson River Sloop Clearwater is pleased to announce that Clearwater's Great Hudson River Revival will return to Croton Point Park in June 2017.
"We are very excited to bring back the Great Hudson River Revival this year" said Betsy Garthwaite, Clearwater Board President. "Music is such an important part of Clearwater's legacy, and we know that the Revival means so much to so many people. Clearwater is extremely grateful for all of the support we received to help us float the boat last winter. Now that the sloop Clearwater is in tip-top shape, the organization is delighted to welcome everyone back to Croton Point Park for what will be an incredible 2017 festival"
The first Great Hudson River Revival took place in 1978 and is the oldest and largest annual environmental celebration in the United States and takes place on Father's Day Weekend. The Revival is a family friendly event (children 12 and under are free), and includes six stages of live music, sailing excursions on the sloop Clearwater and schooner Mystic Whaler, artisanal food and farmers market, a working waterfront including seining the Hudson River, small boats, canoes and kayaks, a handcrafter's village, environmental activism, children's area, a dance tent, weekend camping, limited RV camping and much more, all on the banks of the beautiful Hudson River.
Founded by Pete and Toshi Seeger, the Clearwater festival is one of the first and still one of the most accessible outdoor festival venues in the country. This accessibility is provided by established Access Areas at the front of all the stages, ASL Interpreters, large print and Braille programs and maps, wheelchairs to borrow free of charge, rides around the festival site, Access volunteers to assist people and many other amenities.
Under the direction of Festival Director, Steve Lurie, the Clearwater Festival is set to return with an incredible lineup to be announced in the coming months.
Tickets coming soon at www.clearwaterfestival.org.