BEACON, NY, July 23, 2015 – Hudson River Sloop Clearwater's executive director Peter Gross and Portland Fish Company's president Jesse Schwartz announced today that Clearwater is entering into an arrangement with a new environmental nonprofit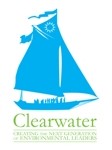 organization to be called "Columbia Clearwater." The new organization is being formed by a group of Portland, Oregon-area environmental nonprofits, to bring the unique and successful approach of Hudson River Sloop Clearwater in New York's Hudson River area to the Columbia River and its tributaries.
Columbia Clearwater will develop a Clearwater program in the Columbia River Basin based on the Hudson River Sloop Clearwater program hallmarks and its annual Great Hudson River Revival eco-music festival.  The Oregon organization plans to stage its Clearwater Revival Concerts on the Columbia, Willamette, and Snake Rivers, and it plans to build a ship as a platform for raising awareness about the rivers as a natural resource and for environmental education.
Over the past year, Gross and Schwartz, along with the Sustainable Fisheries Foundation and Groundwork Portland, have been working to lay the foundation of the new program for the Pacific Northwest.  Together, they also joined with City of Portland neighborhood associations and stakeholder groups to co-sponsor the upcoming Willamette River Revival (www.willametteriverrevival.org), to take place at Cathedral Park on August 2, 2015.  The formal kick-off of the Columbia Clearwater will take place at the Revival.
The new organization is authorized to use the name Clearwater and other trademarks and to adapt Clearwater's award-winning programs and activities.  It will also receive the benefit of Clearwater's expertise through an initial consulting arrangement.
In making the announcement, Clearwater's Gross said, "We are thrilled that Pete Seeger's precept of thinking globally and acting locally, as well as the powerful vision for environmental education and stewardship he conceived nearly 50 years ago, will grow and flourish in the Pacific Northwest."
Portland Fish Company's Schwartz commented on behalf of the founding organizations in Portland, saying,
"With this relationship, Columbia Clearwater will be positioned to make a major contribution to the efforts to celebrate and protect the Columbia, Willamette and Snake Rivers and inspire new generations of environmental stewards."
"This is especially exciting for Clearwater," Gross added, "because we are looking at this relationship in Portland as a model for possible similar arrangements involving waters in locations around North America and the world."  Clearwater has had early discussions with organizations in Canada, India and Afghanistan (through the U.S. Agency for International Development) that want to employ locally-adapted versions of the Clearwater approach.
For more information and details on the historic Clearwater Columbia project, see www.columbiaclearwater.org and www.clearwater.org. For information on donations, see www.crowdrise.com/columbiaclearwater .
Press contact: Toni Martin, Toni@Clearwater.org, (845-265-8080 X7112)