By Maija Niemisto, Director of Shipboard Education
Clearwater hosted our first educational event at the Kingston Homeport and Education Center on Sunday, January 20. An enthusiastic group of new volunteers and familiar faces gathered in our beautiful, new post-and-beam barn to learn about some of the unique Hudson River animals that we will observe onboard the boat.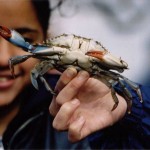 This was the first in a series of enrichment sessions to help prepare our volunteer crew for an exciting week of sailing and teaching this spring. Clearwater relies on our amazing volunteers to help teach thousands of students about Hudson River fish, wildlife, history, river navigation, sail theory and water chemistry and each of these winter seminars is an in-depth lesson focused upon one of these topics with the goal of creating the best informed team of volunteers possible.
This week we spent an hour learning about Copepods, Blue Claw Crabs, Cormorants, Zebra Mussels and Oysters. Participants enjoyed becoming familiar our microscopes, binoculars and viewing tanks that we use onboard Clearwater every day with students.
Here's a taste of some of the interesting facts that volunteers learned:
Copepods, a type of zooplankton, are so abundant that these 2 millimeter long animals outweigh any other species of animal on earth.
Oysters begin as male but can become female after a couple of years.
Cormorants eat rocks to act as ballast and help them dive deeper.
The Latin name for Blue Claw Crabs is Callinectes Sapidus, which means "beautiful swimmer that tastes good."
Hudson River Sunfish have learned to recognize Zebra Mussels as a food source.
After the Winter Volunteer Seminar, attendees filed downstairs to enjoy Clearwater's first Winter Open Boat Day in the barn. The sloop restoration project was accessible to all with a unique opportunity to see the boat out of the water.  Music, food, friends and family came together in the warm barn for a wonderful winter afternoon. Click here to see a slide show of the Janaury 20 Open Boat event.
Whether you have sailed aboard the boats for years or if you are considering in becoming a volunteer onboard Clearwater or the Mystic Whaler in the future, this is a wonderful opportunity to enrich your Hudson River knowledge over the winter. Education staff are on hand to answer questions about the volunteer experience, about specific Hudson River information and help you meet others who are considering spending a week aboard the ships too.
Our next Winter Volunteer Seminar will be 2:00 Saturday, March 16 with a theme of Chanties and Knots. Join us! Please RSVP or direct any questions to Educator@Clearwater.org