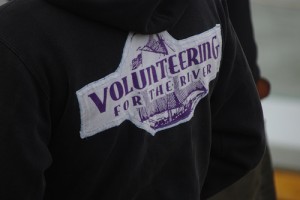 By Shannon McMulkin, Mystic Whaler Educator.
One of the first things I was told about the Mystic Whaler program was that "we couldn't run it without the volunteers."   On our first week of educational sails, I quickly learned why.
Our three volunteers for the week, Nuh Ann, Greg, and Scott,  joined us in Beacon for a transit up to Poughkeepsie. While underway they had to learn all the information to teach five educational stations and how to help sail the boat in only a few short hours.  They rose to the challenge and jumped right into learning all that they could, even helping us to set the trawl net for the first time this season.
Their knowledge was soon put to the test as we kicked off our season with two sails with Biology students from Marist College.  Though nervous on their first day, our volunteers impressed us with how quickly they picked up the protocols and how smoothly the first sails of the year ran.  Captain John said that night at dinner that he couldn't believe this was the first day of the season; we all seemed like we'd been crew for years.
After a few more days of educational sails, we gave our volunteers another exciting day of boat life. Catching an albino hogchoaker in our morning trawl with a group from Carrie Tompkins Elementary was only the beginning of a busy day that also included a head bucket drop off in West Point – complete with props from the costume bag just for the occasion, grocery stop in Cold Spring, and a transit back up the river.  Our amazing volunteers all took a turn at the helm and climbing up into the rigging.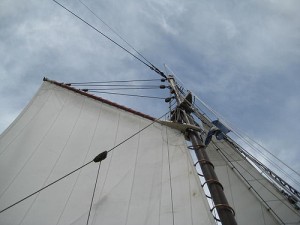 By the middle of the week the volunteers were part of the family and I quickly realized how much I had to learn from them.  Greg was an amazing flamenco guitar player and he spent every night teaching all of us new tricks on the guitar which we eagerly used to break silence at the next day's ed sail.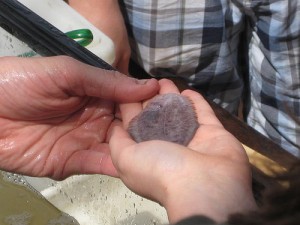 Thursday and Friday were filled with energetic fourth graders from Lenape Elementary.  By this time I could relax and feel confident that all the crew would be teaching stellar classes about the Hudson River. On Friday I got the chance to sit back and observe our volunteers and interns engage the students in their own way, from letting students touch a fish to having a tug of war to learn about mechanical advantage.
Thanks to Nuh Ann, Greg, and Scott for all their hard work and dedication this week.  We couldn't run this program without your help, and if it meant not meeting people as wonderful as you, why would we want to?!