My Musical Journey Through Clearwater
By Sam Heyman-Hicks, Former Sloop Clearwater Captain
Songs from my early years as First Mate and later as Captain:
"Ballad of the Fisherman

" is an original by former Educator Sean Madden, but I also adored his version of a song called

"Way Over Yonder in the Minor Key"

from Billy Bragg & Wilco's album

Mermaid Avenue

(an album they created from Woody Guthrie's unfinished works).

"California Stars"

is also awesome.

Martin Sexton's "

Freedom of the Road"

from

the album

Black Sheep

.

Spotify has a beautiful version of Pete's tune

"Quite Early Morning"

by a band called the Gaslight Tinkers – their lead singer was the first cook I sailed with on the Sloop, a hugely talented musician and songwriter named Peter Siegel.

From the ladies…so much from Ani DiFranco, but particularly,

"Little Plastic Castle"

and the Indigo Girls & Joan Baez doing Dylan's

"Don't Think Twice, It's Alright".

And for fun

"NYC"

by They Might Be Giants

,

and favorite of one of my best friends and first Second Mate

,

Tara

.
After I returned from the Picton Castle, we spent a great revival that year (The Great Hudson River Revival) rocking out to Old Crow Medicine Show and Gillian Welch, so a few of their songs became anthems for the next few years.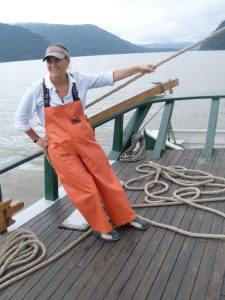 I'd go with

"Wagon Wheel"

and

"Red Clay Halo"

respectively.
Of course, it's fairly widely known that I am not Clearwater's biggest folk music fan, and often needed an antidote to all strumming and picking.
I listened to the Beastie Boys' album

Ill Communication

on a nearly constant loop, check out

"Root Down"

and

"Get It Together"

(with Q-Tip from A Tribe Called Quest).

Once, a late docking almost caused me and Educator Shelley Berlincourt to miss the Black Crowes concert at the Mid-Hudson Civic Center in Poughkeepsie, but we got there just in time to hear the epic opening chords of

"Remedy"

.

And my morning runs while deck wash was going on were almost always to the Foo Fighters…

"Halo"

and

"Aurora"

are brilliant, but anything from the album T

here is Nothing Left to Lose.
So that was probably more than you bargained for and I still listen to all that stuff, but it definitely has a big Clearwater context for me:)!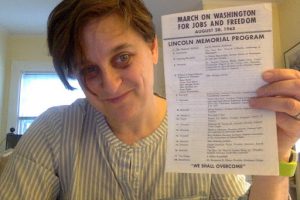 My folks made it sailing a bunch and to revival a few times and we got them to Pete's 90th Birthday show and happened to be seated right in front of Ronnie Gilbert, which was a huge thing for my Dad who grew up on The Weavers. My mom had the most wonderful eclectic taste in music and I still have a butt dial voicemail of her raving about that Madison Square Garden show, talking about John Mellencamp and Dave Matthews. So if you want to throw on anything from the Weavers for Dad… and for Mom, she adored Richie Havens, "Freedom" blew her away at MSG and I just love his version of the Beatles' "Here Comes the Sun" and we loved dancing to Bruce Springsteen's "Dan Tucker" from his Seeger Sessions album.
I'll leave it at this.
---
---
She-Sailor Sea Stories Playlist
In celebration of Women's History Month, Clearwater asked our former female Captains to curate a playlist of the songs that reminded them of their time on board. Listen to Sam's picks, and more
HERE
on the Clearwater Spotify Channel.