Environmental Action Update: November 2020
---
A Tribute to Cecil Corbin-Mark
: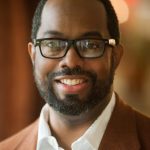 Hudson River Sloop Clearwater board and staff are deeply saddened by the untimely passing of our dear friend and mentor, Cecil Corbin-Mark, Deputy Director and Director of Policy Initiatives for WEACT,  Cecil was a brave and brilliant leader of the Environmental Justice movement, whose contribution was immense.  We extend our sincere condolences to his family, friends and colleagues.  Cecil will be missed by all those he impacted through his commitment to justice, but his legacy will continue to inspire hope and action well into the future.
For more than two decades, Cecil helped draft and pass many important pieces of legislation to ensure public health and safety and environmental protection.  He was a superb and effective organizer, unstoppable in his determination to combat environmental racism, and always with kindness and warmth for his colleagues and community.  After WEACT won its initial victory getting the City to clean up the fouly-polluting North River Sewage Treatment plant and later the West Harlem Piers Park, another major victory was to stop all NY City busses from being garaged in a central depot Harlem, which was forcing disproportionate emissions to be released into an already overburdened community, and then to promote the stringent new bus pollution standards that led the MTA to switch from diesel fuel to hybrid electrics that reduce tailpipe emissions by 95%.  Cecil also created a groundbreaking community solar program, which trained and employed community members to install solar arrays on affordable housing coops in Harlem and Washington Heights.  More recently he testified about the health risks related to climate change.  "Climate change is a threat multiplier, in that it builds upon layers of existing challenges – including public health, economic, and racial injustices," said Cecil.
"Cecil was a guiding force in Clearwater's Environmental Justice contention in the Indian Point relicensing case and our Green Cities work developing a Community-based Environmental Justice Inventory in Peekskill and Climate Justice work in four Hudson River Cities," said Clearwater Environmental Action Director, Manna Jo Greene.
---
We're Paying Attention!
Clearwater, Riverkeeper and others are working to ensure the safest possible decommissioning of Indian Point and other reactors across the nation.  With a global climate crisis and the still worsening COVID pandemic, this may not seem as important.  Unfortunately, the Nuclear Regulatory Committee cannot be relied upon to protect health and safety without rigorous watchdogging and oversight by an informed Congress and local, regional and State officials.
Forums and Briefings
Fri., Nov. 13, 2:00 – 3:00 p.m.   What Congress Needs to Know About Pending Nuclear Waste Legislation. Free. This virtual briefing will discuss the status of pending bills and amendments and how they propose to deal with problems and risks associated with thousands of tons of nuclear waste — the national legacy of using nuclear power.  Information: www.eesi.org/briefings/view/111320nuclear Register at: /www.eesi.org/briefings/view/111320nuclear#RSVP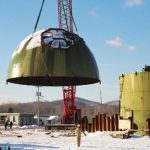 Fri., Nov. 20, 2:00 – 3:00 p.m.  Virtual Regional Decommissioning Forum will feature information on NYS' Decommissioning Oversight Board and other legislation, an overview of the proposed Indian Point license transfer from Entergy to Holtec, Intl — a company with a serious history of malfeasance, bribery, lying to public officials, etc.  Will include case study experience from other reactor communities, emphasizing what has worked and what hasn't, that we can learn from.  For more information or registration:  mannajo@clearwater.org and matt@clearwater.org
Here are three Decommissioning Bills that have been passed by the Legislature, but need to be signed by the Governor:
A10398/S8075

–

This bill ensures that spent nuclear fuel is included in the definition of real property. 

A10107/S8204

–

Includes facilities which formerly generated nuclear power into the definition of nuclear powered electric generating facility to provide the host municipalities with property tax revenue. 
The groundbreaking Decommissioning Oversight Bill still needs to be passed by the Legislature AND signed by the Governor:
Please call Governor Cuomo:  518-474-8390
Find your Assemblymember: https://nyassembly.gov/mem/search/
Find your Senator: https://www.nysenate.gov/find-my-senator
---
Newburgh PFOS Contamination
Over many decades the land that surrounds the City of Newburgh's  drinking water supply at Washington Lake has been over-developed and polluted with PFAS and other toxic chemicals, mainly from the Stewart Air National Guard (SANG) Base.  Temporarily, their drinking water source fluctuates between the Catskill Aqueduct (part of NYC's water supply) and Brown's Pond, their back-up reservoir. Clearwater serves on the SANG Restoration Advisory Committee (RAC) with the Newburgh Clean Water Project and others, advocating for a robust cleanup leading to a well-protected and fully restored watershed that will ensure public health and provide access to clean drinking water, recreation areas, and long-term economic viability.  See the amazing work of the Newburgh Clean Water Project and the RAC at: Clean Water and
Stewart ANG Restoration Advisory Committee – Newburgh Clean Water Project and https://newburghcleanwaterproject.org/wp-content/uploads/2020/10/RAC_Community_Slides_10.28.20_final.pdf
---
Victory for Solar Energy
 An excellent solar project proposed by Clearwater Board Member, Scott Greathead, and his wife, Juliette Bennett, recently received  approval by Marbletown Planning Board over unfounded objections raised by disgruntled neighbors.  While Clearwater absolutely supports sustainable solar siting of renewable energy projects that preserves prime farmland and protects valuable open space, this project meets those criteria and will now gratefully be built. Below is the letter of support to the Marbletown Planning Board, written by our own Mannajo Greene, that was hugely important in generating the broad public support from the environmental community:
Dear Town of Marbletown Planning Board Members,
I am writing in support of the Bennett Solar Farm.  In the face of the global climate crisis worsening every day, it is critically important that we seize opportunities to transition from our dependence on fossil fuel to a Renewable Energy Economy with storage and efficiency.  A few years ago I hosted a conference with Citizens for Local Power, CCE of Ulster County and others on Exercising Caution When Scaling Up Solar. Scenic Hudson has also done extensive work on appropriate siting of solar arrays, which I highly recommend consulting.  Recently, I have been working with Juliette Bennett and Scott Greathead to ensure that the solar farm they are proposing meets the highest environmental standards. They have provided helpful information about the developer, Summit Ridge, which has been actively engaged and addressed many of the concerns I raised and recommendations I made.  I have also been impressed how the company is working with the community to address their concerns.  
Here are some key points about this proposed project.
Local solar power directly reduces the need for fracked gas power plants, such are the proposed Danskammer expansion, in neighboring communities, which pollute the air and exacerbate climate change.

This farm is located on marginal land, which the landowners have tried and failed to lease for traditional agricultural purposes.  Leasing the fields for solar is an alternative that helps support the landowners and prevents the land from being subdivided into, for example, a housing development.

The land around solar farms will be planted with low growing groundcover, which can serve as valuable pollinator habitat.  Providing food for bees and other pollinators, helps our local beekeepers, farmers, and gardeners.

Solar farms pay more taxes than pastureland. These and other fees help lower the tax burden for all Marbletown property owners. 
These are a few of the reasons I urge you to permit the proposed Solar Array on the Bennett/Greathead Property.
Manna Jo Greene, Cottekill, NY
---
Upcoming Events:
Weds., Nov. 18, 7:00 – 8:00 pm. How can we get to 100% renewable energy in New York?  Get the facts from experts and activists engaged in the effort to shut down dirty energy generation while promoting the transition to a renewable energy economy with storage and efficiency. Join Arjun Makhijani, President at the Institute for Energy and Environmental Research and Boris Lukanov, Senior Scientist at Physicians, Scientists and Engineers for Healthy Energy, presenting on the necessity and viability of 100% renewable energy, along with Emily Skydel of Food & Water Watch, and Caitlyn Carpenter and Sebastian Vasquez from Sunrise Westchester.  Sponsored by Beyond Indian Point.  RSVP at

https://zoom.us/webinar/register/WN_i-A2AVkCRP6VM-ZM4sVP3Q 
Weds., Dec. 9, 12 noon – 1:00 p.m.  Scenic Hudson's  Solar Mapping Tool: Supporting a Responsible Renewable Energy Future for the Hudson Valley

(

Click here to register

)  Aimed at helping municipal, industry, and conservation stakeholders rapidly develop solar energy generation in the Hudson Valley while minimizing negative impacts to our communities' natural, agricultural, and cultural resources, the Solar Mapping Tool is an interactive, web-based educational tool that includes information on the types and sizes of solar development, how solar differs from other types of development, and how to proactively and responsibly incorporate solar development into land-use planning. 

Webinar attendees will receive an email confirming attendance, which may be submitted locally for one hour of municipal planning or zoning board training credit.  Join this WebEx event from your computer, mobile device, or phone. To download the WebEx app prior to the webinar, visit

https://help.webex.com/en-us/nrbgeodb/Join-a-Webex-Meeting