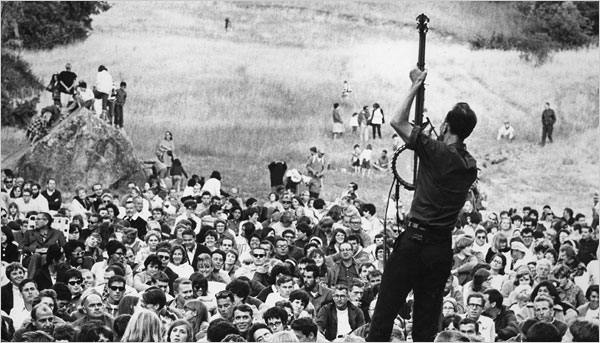 Throughout history, music has been a catalyst for change, a medium for protest and a way to deliver a message of hope. Clearwater's founder, Pete Seeger, always understood this and music and activism have been at the core of Clearwater's culture from the very beginning. A Clearwater concert is never regarded as simply a one-way proceeding, but rather as a group sing-along opportunity. This emphasis on audiences joining in the making of joyful sound surely can be read as a larger metaphor for citizen involvement – the key to a healthy, functioning democracy in America.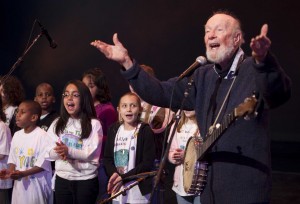 Hudson River Sloop Clearwater began with music as its foundation and at its core. The organization believes that music and the arts are a powerful way to inform and inspire participation in every generation of environmental leaders. Through song, Clearwater carries forward Pete Seeger's legacy of both activism and cause music.
---
Concerts and Special Events


Clearwater produces musical events and concerts throughout the year. Six years ago, The Clearwater Concert: Creating the Next Generation of Environmental Leaders celebrated Pete Seeger's 90th birthday on a massive scale at Madison Square Garden in NYC . The concert featured over 40 artists from a wide variety of musical genres with performances by Joan Baez, Ben Harper, Ani DiFranco, Dave Matthews, Michael Franti, Emmylou Harris, John Mellencamp, Tao Rodriguez-Seeger, Bruce Springsteen, Taj Mahal, Eddie Vedder and Keller Williams, and featured renditions of Pete Seeger inspired musical treasures.
In 2011 Clearwater produced two benefit concerts. Generations, An Earth Day Celebration took place a Tarrytown Music Hall and featured Pete Seeger and Tao Seeger and longtime Clearwater friends David Amram, Peter Yarrow, Janis Ian, Tom Chapin, and Toshi Reagon.
The Power of Song Award Concert in October, 2014, at Symphony Space in NYC honored George Wein, music impresario and celebrated American festival producer known for founding the Newport Folk Festival in 1959 with Pete Seeger, Theodore Bikel, Oscar Brand, and Albert Grossman.  Wein also founded the Newport Jazz Festival, the New Orleans Jazz & Heritage Festival, Playboy Jazz and JVC Jazz festivals in cities around the world. The evening's outstanding program featured Pete Seeger, Arlo Guthrie, Suzanne Vega, Lucy Kaplansky, Tom Paxton, Guy Davis, David Amram,  Toshi Reagon,  Loudon Wainwright III, and Richard Barone.
For Earth Day 2015, Clearwater's Earth Grooves concert at St. John's Episcopal Church in Yonkers featured musicians and dancers from cultures close to the earth. World Music expert David Amram was the master of ceremonies for performances by the Andean flute ensemble Agua Clara, The Thunderbird American Indian Dancers and Amram also performed with song and flutes.
---
Great Hudson River Revival – Clearwater Festival
Every summer, Clearwater continues to bring people down to the river for the Great Hudson River Revival, or Clearwater Festival, the country's oldest music and environmental festival. What began as riverside concerts to raise funds to "build a boat to save the river" has evolved into a weekend celebration that brings together thousands of attendees for two days of inspired music  and celebration with a focus on our earth, community, and environmental stewardship. Held every June, the festival attracts celebrated musicians who perform in support of the Clearwater mission. Celebrated artists performing at the festival include David Crosby, Citizen Cope, Neko Case, Bela Fleck, Ani DiFranco, Steve Earle, Guster, Agnelique Kidjo, Indigo Girls, Los Lobos, The Mavericks, Martin Sexton, Arlo Guthrie, The Low Anthem, Billy Bragg,  The Klezmatics, as well as longtime Clearwater friends like David Amram, Peter Yarrow, Tom Chapin, and Toshi Reagon.
---
Music onboard the Sloop Clearwater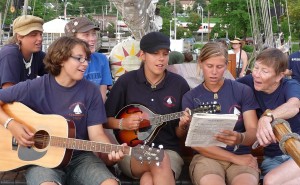 Chanteys and sing-a-longs have always been a tradition onboard the sloop. Every sail includes time for the crew to pull out the musical instruments and invite the passengers to join in singing traditional river songs and Hudson River favorites, such as "Sailin' Up, Sailin' Down," " The River that Flows Both Ways," and of course, Pete Seeger favorites such as "My Dirty Stream" and "Rainbow Race."