Hudson River Sloop Clearwater's Public Comment
on EPA's Hudson River PCBs Superfund Reassessment and Proposed Remediation Plan. April 17, 2001.

[ Table Of Contents ] - [ Executive Summary ]
Main Document: [ Part 1 ] - [ Part 2 ] - [ Part 3 ]
[ Conclusion and Recommendations ]
---
Economics of PCB Contamination
Clearwater has undertaken an economic modeling exercise in an attempt to identify and quantify, where possible, the economic impacts on the region being remediated and the entire Hudson Valley, comprising the Hudson Valley NPL site. The complete report is attached, or will follow when complete.
Overview of the economic modeling process:
The economic impact of EPA's proposed environmental dredging project on Saratoga and Washington Counties is defined as the difference between forecasts of local economic activity with and without the recommended intervention. Details relating to the preferred cleanup alternative are thoroughly documented in Appendix I of the Feasibility Study released by EPA in December 2000. Data from that report was used as input to the REMI regional economic model used for this study.
Using the REMI model to estimate economic impact consists of multiple steps. The first step is the computation of a baseline forecast of the regional economy, utilizing historic data and assumptions about the US economy. Next, a policy forecast was generated that included assumptions relating to EPA's recommended course of action. The policy forecast was also adjusted to reflect historic employment data that was not previously included in the baseline. Finally, the baseline forecast was compared with the policy forecast. The difference between the two forecasts represents economic activity related to the intervention.
Based on more than two decades of research, the REMI model incorporates a systematic series of structural equations that capture the interrelationships among major components of the economy including output, supply and demand for labor and capital, market prices and shares, wages and population.
The Hudson River Valley (i.e., twelve-county region) accounts for nearly 15 percent of New York state population and total employment. River-related employment in the region, by comparison, including water transportation, waterfront engineering and recreation, represents less than 10 percent of the state total. In 1999, an estimated 7,400 jobs were tied to the Hudson River, in the twelve counties identified (Albany, Columbia, Dutchess, Greene, Orange, Putnam, Rensselaer, Rockland, Saratoga, Ulster, Washington and Westchester). The associated wage bill was $288 million.
Those figures are lower than the actual total, as they include only direct and indirect employment relating to sectors (i.e., 2-, 3-, 4-digit SIC) for which water-related employment is likely to account for the majority, if not all, of employment. For example, water-dependent wholesale and retail trade and water-dependent/-intensive manufacturing are not included, since those sectors could not easily be split from the larger trade and manufacturing classifications in which they fall. In such situations, the conservative approach—i.e., record no activity—was taken. Furthermore, no economic activity associated with the Hudson River in New York or Bronx
Counties is included in the total, as estuarine activity could also not be easily separated to distinguish between Hudson River activity and other coastal activity for those counties. If missing data were included, economic benefits tied to the Hudson River would be larger.
Economic Value of Hudson River Tourism:
Tourism is a major industry today. Many sources regard it as the fastest growing industry in the world. The economic potential for tourism stems from amenities and services in combination with image and marketing. Tourism and related activity has always been important along the Hudson River Valley, although few studies have made the effort to quantify it.
Given the attractive substitutes that compete with the Hudson River Valley—e.g., Lake George, Lake Champlain, Adirondacks, Berkshires, etc.—it is particularly important that none of the attributes mentioned earlier be constrained. At present, the stigma of "Superfund site" designation clouds the Hudson River Valley. This study does not attempt to quantify the "lost" visitors who generate economic impact at substitute locales. However, the following citations point out, in general terms, tourism's potential for sites like the Hudson River Valley, as well as tourists' concern with environment:
A study completed in 2000, looked at the economic impact of recreational boating on the Ottawa River. Researchers found that, "boater activity to the local economy," added, "$14 million in total annual sales, of which $8 million is value added."
A 1997 survey (Robertson) of tourists and tourist sites along the New Hampshire coast found high incidence of owner/operators among tourist attractions and, "the importance of the environment to the 'tourism' experience…" Tourists who were interviewed, "expressed considerable support for a wide range of environmental enhancement and corridor protection initiatives."
A 1995 economic impact study in Maryland found that, "spending related to recreational boating in 1993 totaled $1.01 billion." The study concludes that an additional $980 million of new economic activity is attributable to the direct spending. The study relates the following average annual trip-related expenditures, based on surveys:
| | |
| --- | --- |
| Trailered powerboats: | $1,283, |
| In-water powerboats: | $1,192, |
| Sailboats: | $720. |
A 1988 study of Columbia River Gorge (Anderson, Morse), an 85-mile canyon in Oregon, provided, "hard evidence of the importance of tourism to business activity in the…" Gorge.. The report also states that, "visitor expenditures not only play an important role in the creation of employment and income, but also make diverse contributions that affect many sectors of a region's economy." (p. 4) The Gorge is especially popular with windsurfers. Some of the amenities preferred by day visitors and overnight visitors include: rest areas/picnic areas, hiking trails, campgrounds, river access (with parking), RV hookups and marinas.
Activity associated with the environmental dredging of PCBs (Saratoga and Washington Counties): Construction costs associated with EPA's preferred alternative cleanup method have a net present value of $460 million, of which nearly half is spent in the region. Of the amount spent locally—$225 million—40 percent represents direct spending on labor. Over the life of the project—i.e., construction, operation and monitoring—nearly 3,543 jobs are added to the local economy. The remainder spent locally represents an increase in the purchase of goods and services.
The direct economic activity—i.e., employment and spending—associated with cleanup activity along the Upper Hudson, ripples through the economy and gives rise to additional effects. Spending associated with the cleanup leads to indirect impacts on jobs and business orders for related product and service providers (and, in turn, for their providers). The income associated with cleanup-related employment is likewise re-spent on consumer purchases; these represent induced impacts on the economy. Finally, additional dynamic effects occur, such as changes to wage rates, as a result of demand changes. These indirect or multiplier effects add an additional 1,028 jobs to the local economy and $53 million of wages.
The overall impact of the proposed cleanup project on the regional economy can be summarized as follows:
Direct Impact
Indirect Impact
Total Impact
New Jobs
3,543
1,028
4,571
New Payroll
$88.5 million
$52.5 million
$141 million
Gross Regional Product:
$800 million
Long-term benefits
Economic potential of the Hudson River: In 1999, an estimated 7,400 jobs were tied directly to the Hudson River, in the twelve counties identified (Albany, Columbia, Dutchess, Greene, Orange, Putnam, Rensselaer, Rockland, Saratoga, Ulster, Washington and Westchester). The associated wage bill was $288 million. Those figures are considerably lower than the actual economic benefit, as they include only sectors predominantly tied directly to water-related activity (and related indirect employment), without considering sectors that contain both water-related and unassociated jobs. Furthermore, none of the economic activity associated with the Hudson River in New York or Bronx Counties is included in the total, as estuarine activity could not be separated to that level of detail (i.e., Hudson River or other coastal) for those counties. If missing data were included, then economic benefits tied to the Hudson River would be larger.
The Hudson River Valley (i.e., twelve-county region) accounts for nearly 15 percent of all state population and total employment. By comparison, river-related employment in the region, including water transportation, waterfront engineering and recreation, constitutes less than 10 percent of the state total. Eliminating PCBs from the Hudson River would lower waterfront remediation costs and lead to a reduction in the costs associated with waterfront redevelopment and restoration. Reducing those costs could lead to a resumption of water-related activity along the Hudson River. If that were to occur in proportion to the remainder of the state, it could lead to gains in the twelve-county region, over time, of:
3,700 to 8,900 new jobs;
$144 million to $346 million new wages.
Activity would be expected to arise from water transportation (e.g., Champlain Canal, Hudson River traffic) and waterfront development, as reflected in Local Waterfront Revitalization Plans and the Hudson Valley National Heritage Area Management Plan.
Finally, in its ardor to avoid dredging, General Electric may be missing an important economic opportunity. If GE developed its own dredging capability, it could provide cost-effective service to the Upper Hudson and to many of the 80 other Superfund sites for which it is presently responsible, or potentially responsible. This infrastructure and expertise could then be exported to remediate toxic sediments from hazardous waste sites around the globe.
The economic, recreational, cultural and spiritual activities associated with fishing the Hudson remain among New York's most valued, treasured, and historical assets. Yet four generations of anglers have been exposed to PCBs through the consumption of Hudson River fish. In the absence of remediation, several generations will pass -- our children will be grandparents --before levels of contamination are acceptable for people or other animals to be safely eating the fish.
In the early 1970's, state and federal surveys found high levels of PCBs in many Hudson River fish. In 1976, the State banned all fishing on the Upper Hudson, closed commercial fishing on the Lower Hudson, and issued extensive fish consumption advisories for the Lower Hudson. Over 25 years have passed since February 26, 1976, the memorable day when the NYS DEC closed the Hudson River fisheries. Still, PCBs remain a liability for the State of New York, and commercial and recreational fisheries remain significantly restricted.
Commercial Fisheries
In 1976, the NYS DEC closed the active fisheries for American eel and striped bass due to PCB contamination. Both American eel and striped bass are highly valued food sources and rank high in commercial importance.
Eels are caught from the Upper Hudson to Long Island Sound and are important as a source of food, especially young "elvers" whose flesh is considered a delicacy. Eels are popular recreationally and commercially because they are abundant and easy to catch and can be sold for smoking, other niche markets, and for bait (personal communication, David Samuels, Blue Ribbon Fish Co., 2001).
Striped bass are caught from the Federal Dam at Troy to Long Island Sound and the Atlantic Ocean and are considered one of the most important commercial fishes of the United States because of their exquisite flavor and texture (Smith, 1985). Known throughout the Fulton Fish Market as a "restaurant staple" and valued for its marketability, striped bass commands a moderate price in primary and secondary markets with a relative value generally above that of farm-raised Atlantic salmon and below red snapper and halibut species (personal communication, David Samuels, Blue Ribbon Fish Co., 2001). Several companies have illegally sold hundreds of thousands of pounds of Hudson River striped bass in the Fulton Fish Market (and have been prosecuted), attesting to the marketability of this heavily regulated commercial fishery (Bastone, 1998). In fact, at the Fulton Fish Market, striped bass prices are about 50% higher than they were 20 years ago at an average of $2.50 per pound wholesale and public demand is very high for this species (personal communication, David Samuels, Blue Ribbon Fish Co., 2001)(Bastone, 1998).
Despite claimed prospects for a limited commercial striped bass fishery in the near future, PCB levels in these fish are higher than in striped bass caught from marine waters and often exceed the FDA tolerance level of 2 ppm in the Hudson River. In fact, PCB concentrations in striped bass from Albany/Troy are as much as six times greater than levels at the Tappan Zee Bridge. 20% to 30% of fish caught in the Tappan Zee are above the FDA threshold -- and are orders of magnitude above EPA's 0.05 ppm target.
While the management of striped bass in the Lower Hudson River is a complex issue, it is clear that one of the primary reasons for continuing the moratorium on commercial sale of striped bass continues to be the levels of PCBs found in the fish (personal communication, Ron Sloan, NYS DEC 2001). When compared to PCB levels from commercially sold striped bass harvested in other states, Hudson River striped bass are still relatively elevated. These relatively elevated levels appear to have stabilized, indicating that reductions of PCB sources to the Lower Hudson will be necessary to further reduce PCB contamination levels to levels of commercial viability.
Recreational Fisheries
Though there are many economic and social benefits to be derived from angling, among them recreation, tourism and appropriate fish consumption, this activity also presents a serious health risk due to exposure to contaminants. For the Hudson River PCBs site, the US EPA has determined that the most significant route of exposure of PCBs to humans is through the consumption of fish.
One fifth of the fish and shellfish consumed in the United States is harvested by recreational or subsistence anglers (NAS, 1991). Anglers face a high risk of exposure to toxic substances because they tend to fish from the same, often contaminated, water body repeatedly (Reinert, 1991; USEPA, 1991) and consume more fish than the national average (NAS, 1991). In fact, the National Academy of Sciences has concluded that individuals who engage in recreational or subsistence fishing face a higher risk of experiencing negative health effects than do members of the general public (NAS, 1991).
In the sport of recreational fishing, anglers frequently consume the fish that they catch. Anglers' perception of chemical contamination in the fish they are trying to catch affects the likelihood that the anglers will fish in a particular water body. In fact, the NYS DOH health advisories suggest that anglers fish in bodies of water not listed in the health advisories if you are planning on reducing your exposure to chemicals in fish you plan to catch and eat (NYS DOH, 2001). Angler preference for fishing location based on the presence of chemical contamination is also demonstrated in the fact that fishing in the Hudson River was greatly reduced in years subsequent to Commissioner Ogden Reid's announcement of PCB contamination in Hudson River fish in the 1970's.
Catch and Release Fishery – Upper Hudson
In 1995, the DEC overturned the ban on fishing in the Upper Hudson to a "catch and release only" recreational fishery. However, people cannot bring their fish meals home to eat because the contamination levels are so high. In fact, the NYS DEC considers the consumption of most Upper Hudson River fish a liability for the State of New York and prohibits the taking of fish between the Troy dam and Hudson Falls.
A primary effect upon the recreational fishery of reducing PCB contaminant levels in fish to a target level of 0.05 ppm would be to attract more anglers to the Upper Hudson for fishing. Reducing fish contamination to a target level of 0.05 ppm would ensure that fish would be safe to eat, which would attract more anglers to the Upper Hudson River. In other words, removing the stigma of PCBs associated with the Upper Hudson River would increase recreational use.
Fish Consumption Advisories – Lower Hudson
The EPA's preferred remedy targets a reduction of PCB levels in fish to 0.05 ppm and an estimated 40% reduction in PCBs flowing over the Troy Dam by the end of the forecast period. However, the Feasibility Study (FS) does not define a target reduction level for fish in the Lower Hudson River. It follows that there are no comparisons of remedial alternatives for time-frame reduction or removal of the general "eat none" or specific "meal per week/month" health advisories for the Lower Hudson River. However, there is a strong correlation between PCB levels in the water column and in fish tissue, and it is possible that a claimed 40%-60% reduction of PCBs in the water column of the Lower Hudson will result in reductions of the same order in fish tissue over the forecast period. 7 Clearwater's recommended standard of remediation will result in PCB reductions in the range of 50%-70% or better, and will therefore produce more rapid reductions in PCB levels in fish and water.
As mentioned earlier, Hudson River anglers prefer fish that contain some of the highest levels of PCB contamination. Many of these anglers cook and eat the whole fish and are unaware of chemical contaminants and techniques for reducing exposure to contaminants when preparing fish meals. Rather than visiting a local fish market, many anglers in the Lower Hudson try to fill up a 5 gallon bucket with fish they have caught from the River, bringing home their catch to family and friends for the next meal or to freeze for later consumption.
As PCB contamination of many fish in the Lower Hudson has stabilized generally at levels higher than the FDA tolerance level of 2 ppm, further reduction of these levels to below FDA standards clearly points to the necessity for remediation. Reductions on the order of 50%-70% will increase the likelihood that fish consumption advisories could be relaxed in the Lower Hudson River in the shortest time possible, thus increasing the attractiveness of the fishery to recreational anglers.
The Reassessment of the 1984 "No Action" decision for the Hudson River PCBs Superfund Site has resulted in clear separation of "upstream" (GE Fort Edward and Hudson Falls plant sites and remnant deposits) and "downstream" (sediments in the Thompson Island Pool and below) sources of PCBs and their relative contribution to the ongoing contamination of Hudson River biota. The RI/FS supports an interpretation that downstream sediments represent the most significant source of PCB loads to the Hudson River ecosystem. It follows that in the absence of active remediation, highly contaminated sediments will continue to mobilize through the Hudson River ecosystem, contaminating wildlife and humans.
In the absence of a strong, community-based fish advisory program in the Lower Hudson, community awareness and attention to fish advisories will continue to falter. Remediation will essentially reduce the number of years anglers will continue to be exposed to PCBs through consumption of sportfish (knowingly or unknowingly) in the Lower Hudson while attracting more anglers and the general public to utilize the resources of the entire Hudson River.
Recreational fisheries are an important economic asset for Hudson River Valley economies and New York State at large, contributing to the local and regional economy through angler visitation to local markets, bait shops, marinas, lodging, gas stations, restaurants, and the sale of fishing licenses. A thriving recreational fishery can attract new anglers and the general public to the region, with the secondary effect of increasing overall public awareness of the viability of the Hudson as a resource. This could have beneficial effects upon tourism in general and property values throughout the Hudson River corridor.
Increased Health Advisory Outreach and Education Before and During Dredging Operations
In light of the possibility for minor remobilization of PCBs downstream from the dredge site, Clearwater requests that EPA work in collaboration with the NYS DOH and NYS DEC to increase public awareness and education about health consumption advisories for consuming sportfish from the Lower Hudson. Clearwater recommends increased outreach and education about fish consumption health advisories and "catch and release" regulations for both the Upper and Lower Hudson River before and during dredging operations, as well as notification that dredging has been completed and periodic information on levels of PCBs in fish as recovery progresses. An outreach and education program that utilizes community based health, food, religious and environmental networks, television, radio and print media, and face-to-face communication of advisory information to anglers will increase the likelihood that anglers who consume fish from the Hudson River will be advised of the possibility for increased levels of PCBs in fish they catch through the end of the dredging period. As PCB levels in contaminated fish generally decrease as one moves downstream, Clearwater recommends special attention to notification of anglers in areas where the effects of remobilization upon PCB levels in fish will be somewhat higher. These include areas downstream of the Federal Dam at Troy where fish PCB body burdens are currently considered by the EPA and NYS DOH to represent a significant health threat when consumed by humans.
EPA's Proposed Remediation Plan
Superfund defines the project as beginning at the Fenimore Bridge in Hudson Falls and continuing through the Battery in New York City. In order to organize their report, EPA's proposed plan divides the river into three sections:
River Section 1 begins at the former Fort Edward Dam (River Mile 194.8), south of the Fort Edward plant site, and continues for 6.3 miles through the area know as the Thompson Island Pool to the Thompson Island Dam at RM 188.5.
River Section 2 extends from below the Thompson Island Dam for 5.1 miles to the Northumberland Dam in Schuylerville (RM 183.4).
River Section 3 is 29.5 miles long, from the Northumberland Dam to the Federal Dam at Troy.
What is missing from this analysis is the 2.5 mile section of river north of the former Fort Edward Dam to the northern plant site at Hudson Falls. The plan must clearly identify a remediation for the stretch of river from the Fenimore Bridge, over Bakers Falls Dam, past the Hudson Falls and Ft. Edward plant sites and the remnant deposits which were created when the Fort Edward Dam was removed in 1973. EPA has indicated that this area is being remediated by source control measures and previous capping of remnant deposits. The Plan also notes that the river is rapid, and the bottom has rocky outcrop and little sediment. However, once source control is accomplished at the two plants sites, it will be possible to assess the amount and concentration of PCBs remaining in this stretch of river and devise an appropriate remedy. NYS DEC is the agency responsible for oversight of the GE's source control program under an order of consent. The work of cleaning up the plant sites is progressing well. Remediation efforts have reduced the seepage from the bedrock under the Hudson Falls plant to an estimated three ounces per day or 68 pounds per year. It is anticipated that this work, while not complete, will have successfully controlled seepage in approximately three years, by the time actual remediation takes place. At that time, this area should be reevaluated by EPA, or EPA should require NYS DEC to address it. Any other sites upstream of Hudson Falls in Queensbury or Glens Falls that may be contributing to the PCB contamination in the river should also be addressed.
Also outside of the scope of this project is the need to remediate upland PCB waste sites in the area at the GE-Moreau site, Old and New Moreau sites, Special Area 13 and others.
EPA's proposal evaluated five major alternatives:
Alternative 1: No Action without source control
Alternative 2: Monitored Natural Attenuation (MNA) with current and future source control efforts at GE's Hudson Falls and Fort Edward plant sites
Alternative 3: Capping with source control, followed by MNA
Alternative 4: REM 3/10/Select
Alternative 5: REM 0/0/3
Using nine evaluatory criteria, EPA has ruled out the "No Action", "Monitored Natural Attenuation" (MNA), and Capping as insufficient remedies.
"Source Control" is Not Enough
Clearwater strongly agrees with EPA's evaluation of Alternatives 1, 2 and 3. A "No Action" alternative leaves human, wildlife and the environment at risk indefinitely. Monitored Natural Attenuation with source control would only reduce the amount flowing downstream by less than 10%. Because of source control efforts to date, the flow of PCBs General Electric has mitigated the seepage of PCBs from the bedrock under the Hudson Falls plant down to approximately 3 oz. per day, or 68 lbs. per year. However, PCBs from GE's original discharge of 1.3 million lbs. remain in the sediment and are constantly being resuspended by the natural turbulence of a flowing river, exacerbated by snow melts, heavy rains and navigation.

It is expected that Source Control, which is categorized as a "Non-Time Critical Removal Action", will curtail seepage into the river before dredging

ever begins. The 68 lbs. per year which will eventually be remediated by source control is only a fraction of the more than 500 lbs. per year that continue to be resuspended and wash over the Federal Dam at Troy, moving into the Lower Hudson and beyond. This problem will continue unabated if PCBs are not removed. Environmental dredging will decrease the amount of PCB-contaminated sediment passing over the Troy Dam by a minimum of 40% to 53%, depending on which alternative is selected in the final ROD.

Measures to prevent resuspension of sediments during dredging will be discussed at length below; however, as a comparative number EPA estimates that a maximum of 38 lbs. per year would be temporarily resuspended with mechanical dredging (about half of that with hydraulic dredging). Precautions such as the use of silt curtains and rigorous monitoring will further reduce this number. In any event EPA stresses that there will be an annual net benefit because far more sediment will be removed than will possibly be resuspended (See Figure A).

EPA has also decided against capping. Capping requires dredging of shallow areas and is inappropriate in the channel which may later need to be dredged for navigational purposes.

Of the two removal options EPA considered, it selected the less rigorous Alternative 4: REM 3/10/Select as its preferred remedy because EPA believed it to be more cost-effective and less disruptive. A full analysis of this decision is included below under "Analysis of Remediation Alternatives." EPA has also clearly specified that the dredged sediments will be dewatered and shipped by rail to landfills outside of the Hudson Valley.
Failure of Remnant Deposits Caps
In the 1984 Record of Decision (ROD), EPA called for an interim remedial action including in-place containment of remnant deposit sites with further remedial action open for re-examination "if the EPA decides at a later date to take additional action with respect to sediments in the River." (US EPA, 1984).
In order to prevent human exposure through direct contact or inhalation, the remnant deposits were covered with a geosynthetic clay liner and a 24-inch thick layer of soil, followed by grading and revegetating to minimize erosion. Additionally, the river banks were stabilized with rip-rap to prevent scouring. Cap construction and the erection of gates limiting site access were completed in 1991 (US EPA, 2000).
The rip-rap stabilization system was designed to assure the integrity of the remnant deposit sites in the event of a 100-year flood water level. According to the 1984 ROD, rip-rap should be constructed above the 100-year flood level to insure the integrity of remnant deposit sites (US EPA, 1984). The effectiveness of these rip-rap stabilization measures should be re-examined in light of updated and more accurate water discharge levels for a 100-year flood event. 8
The 1984 ROD states,
"While levels of PCBs migrating from the site have never been measured, it is believed that the bulk of the PCBs are locked up in the remnant materials, and that the discharges into the river are at relatively low levels. In light of existing levels of PCB contamination in the river system, it is believed that such discharges are not particularly significant (US EPA, 1984)."
Over a decade has passed since the capping measures have been applied for the remnant deposits and there remains a lack of available data on the amount of PCBs that are emanating from remnant deposit sources. Clearwater encourages the EPA and NYS DEC to further evaluate the fate of these remnant deposit loads and to examine the possibility of increased human exposure to PCBs resulting from erosion and weathering of the remnant deposit sites.
Figure A.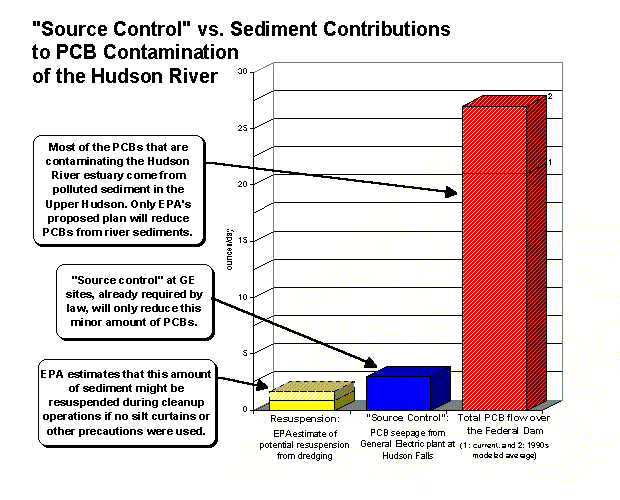 Environmental Dredging Technology
After the passing of the Comprehensive Environmental Response, Compensation, and Liability Act (CERCLA) in 1980, demand greatly increased in the US for dredging equipment that can remove contaminated sediments while minimizing resuspension or stirring up of sediments. (Cleland 1997) While navigational and construction dredging equipment are effective in removing large amounts of sediment quickly, more precise environmental dredges are necessary for removing contaminated sediments without dispersing them into the environment. Over the past two decades, the technological advances in environmental dredges used in the US have been significant, and innovative technologies have been developed here and abroad.

EPA's Proposed Remedies REM 3/10/Select and REM 0/0/3 employ only environmentally protective dredges to remove forty targeted hot spots in the Upper Hudson River. Clearwater believes current environmental dredging technology can safely remove these contaminated hot spots, as demonstrated in other cleanup sites. A minor amount of sediment resuspension is possible, estimated by EPA to be a maximum of 15 kg (38 lbs) per year without the use of silt barriers. It is important to balance this against the significant PCB releases that are presently occurring as a result of storms, ice scour, high flow events, and other natural disturbances, resulting in the flow of 214 kg (471 lbs) of PCBs over the Federal Dam at Troy (see Figure A). Overall, dredging of hot spots would greatly reduce the amount of PCBs flowing into the Lower Hudson River, even taking into account the small amount of short term resuspension.

EPA's Proposed Remedy does not specify exactly what type of environmental dredges will be used in the Upper Hudson. The Feasibility Study examines both hydraulic and mechanical environmental dredges. The EPA has not committed to either technology in River Sections 1 and 2, but has stated that mechanical dredging will be used in River Section 3, due to limitations on the distance that dredging slurry can be piped from source to treatment facility.

Clearwater's research has shown that certain types of environmental dredges are superior in reducing resuspension of sediments, which we will discuss below. We will also include recommendations for operational procedures and equipment modifications that can further protect the river from environmental disturbance during dredging.

Mechanical environmental dredges utilize a bucket or clamshell that is modified from navigational or construction dredges. Examples are the watertight clamshells, CableArm environmental bucket, and the Horizontal Profile Bucket (Hayes 2000). Modifications to bucket dredges include overlapping side plates, rubber seals, water venting systems, use of sonar and/or real time video monitoring, and design modifications allowing for wider and more level cuts (Cable Arm 2001). The purpose of these improvements is to prevent the loss of materials between the point of dredging and deposition in barges or scows. Environmental buckets can use a bucket-on-rope design or a hydraulically operated arm.

Hydraulic environmental dredges utilize powerful pumps to remove sediments, similar to a vacuum cleaner. They frequently employ attached heads, such as a horizontal auger or cutterhead, to dislodge sediment which is immediately suctioned through a pipeline to a processing plant, where sediment is separated from water and processed. Hydraulic dredges can also use features such as positioning systems, real time monitoring, and sonar equipment to allow for greater precision. While the cutterhead dredge is most frequently used, there are many innovative types of hydraulic dredges that may be applicable for the Upper Hudson River.

The production rate of one 12-inch cutterhead dredge is roughly equivalent to three 4-cubic yard enclosed bucket dredges, according to EPA's study. Mechanical dredges would require three attendant barges per dredge to transfer sediments to a dewatering facility. Hydraulic dredges would avoid the use of these barges but require temporary PVC pipeline to move dredging slurry to dewatering facilities. EPA has restricted its study of hydraulic dredges to river sections 1 and 2 because of the distance limitation of 53,000 ft (10 miles) for using these pipelines. However, it is possible to pump contaminated spoils into covered barges and transport this material to a treatment facility.

While both types of dredges are designed to prevent resuspension of sediments, hydraulic dredges are more effective in accomplishing this goal. EPA originally estimated the rates of yearly resuspension of PCBs at approximately 6 kg (13.2 lbs) for hydraulic dredges and 9 kg (19.8 lbs) for mechanical dredges. These estimates were subsequently increased to nearly double that amount but continue to show a significant difference in the two technologies. These resuspension rates are based on operation without silt barriers.

Clearwater recommends using hydraulic dredging as the default technology, and innovative dredges wherever possible, including in River Section 3. While hydraulic dredges do require greater water processing capacity, there are clear advantages to maximizing their use.

Hydraulic dredges avoid resuspension that may occur when mechanical buckets impact bottom sediments or when the bucket is lifted to deposit sediments into a barge. Hydraulic dredging eliminates the possibility of spillage from barge overflows or during the unloading of barges. Mechanical dredges' reliance on barges also requires silt barriers to be opened as barges pass, which can allow suspended sediments to escape from work areas and greatly reduces their efficiency. Hydraulic dredges using a flexible pipeline for slurry transport would avoid the need to open silt barriers.

Hydraulic dredges require fewer barges and towboats, which would substantially reduce river traffic and reduce costs for these vessels and their operators. Hydraulically dredged materials can be mechanically dewatered and do not require the use of stabilizing agents, such as Portland Cement. EPA's study concludes that hydraulic dredging allows for "greater removal precision and permits handling of a wide range of sediment types and debris."

Mechanical environmental dredging has resulted in short term increases in fish contamination at two sites, the Black and Grasse Rivers. Hydraulic dredges have been successfully used at a number of sites including Manistique Harbor, New Bedford Harbor, St. Lawrence River, Waukegan Harbor, and Cumberland Bay. (Cleland 2000)

New York Department of Environmental Conservation recently supervised cleanup of more than 20,000 lbs of PCBs at Cumberland Bay in Plattsburgh, NY on Lake Champlain. This remediation which ended in October, 2000 provides a clear example of successful hydraulic dredging.

During the project, swimming beaches and motels near the dredging remained open. By using a hydraulic dredge in conjunction with silt barriers, turbidity or sediment resuspension from dredging remained very low. A paper plant intake valve close to the operation remained open during the process, despite a water clarity requirement of no more than 2 parts per billion of suspended particles. This project finished ahead of schedule and drew no complaints from nearby neighbors (Gordon 2000). The DEC also anticipates that this cleanup will allow fish consumption advisories to be dropped in the next few years (DEC 2000).

EPA has found that environmental buckets have a limited range of capacities. There are also limitations on mechanical dredges access to near shore sediments and on the loading of hopper and deck barges due to draft limitations.

Clearwater recommends further evaluation of innovative dredges including the Eddy Pump and pneumatic dredges. While availability is not as widespread as the commonly used cutterhead, these technologies are potentially useful in the Hudson cleanup and should be studied further.

The Eddy Pump provides high rates of production and slurry density while creating very little resuspension. This pump has no moving cutterhead and uses a swirling current (like a tornado) to remove sediment. The Eddy Pump can be used for many types of sediments, including woody debris. It may also provide for removal of sediment with lower water content compared to centrifugal pumps, thereby reducing the amount of dewatering required and the size of settling basins (Eddy Pump Corporation 2001).

Pneumatic dredges, such as the Pneuma Pump, are suction dredges that use a hydrostatic pump system. Compressed air forces sediment slurry through a valve to the outflow pipeline leading to the treatment facility or barge (Environment Canada). These dredges also have the advantage of removing slurry with much higher solids concentrations than conventional hydraulic dredges. The Pneuma Pump is most effective for fine grain sediments.

Additional innovative dredges should also be studied. Models such as the Clean-Up Dredge developed in Japan can be utilized with nearly no resuspension (Cleland 1997). Conbar International has developed the Environmental Dredger, which uses a positive displacement pump. This produces a slurry concentration of 80-90% and can be used in less than 0.8 meters of water. It also is acoustically covered for noise control. Pilot testing of these and similar innovative technologies may be appropriate (Conbar International 2001).

As EPA chooses technologies and designs for this cleanup project, considerations must include additional safety precautions, methods of operation, and operator experience. Specific performance criteria should include monitoring requirements and water discharge regulations.

Preventing Sediment Resuspension

Methods of controlling locally resuspended sediments have been widely used, including oil booms, silt curtains, silt screens, and portable dams such as Aqua-Barrier and Portadam. Silt barriers have been doubled up to increase protection from remobilization of sediments into rivers and lakes. This precaution was used at the Ford Outfall site (River Raisin, MI) and at the Grasse River site (Massena, NY). Barriers, such as steel sheeting, can also be used to protect silt barriers in faster current areas.

Clearwater recommends use of silt curtains over silt screens to minimize downriver transport of suspended sediments. Silt curtains with the highest US EOS sieve rating available should be used. Because most sediment hot spots are in quiescent areas of the river, use of silt barriers should be maximized in the Hudson. While higher EOS rated fabrics are more costly, they lower the fraction of suspended material that escapes the work site (EPA 2000).

Pipelines used for hydraulic dredging can also be encased in secondary pipelines to protect from the unlikely event of leakage. Such precautions were used in the Lower Fox River pilot project.

Project Specifications

Operator experience is crucial to successful remediation. As has been required in other projects, dredging operators should have proven ability to meet or exceed specific performance criteria in order to be considered for the Hudson PCB removal. Dredging contractors should also have a successful record of using the specified dredging technology where cleanup goals have been achieved.

Clear project specifications should be specified for both hydraulic and mechanical environmental dredging. In the case of hydraulic dredging, resuspension can be minimized by proper selection of the cutter rotation, ladder swing speeds, and depths of cuts. The rate at which sediment is dislodged or disturbed must not be allowed to surpass the rate at which it can be removed by hydraulic flow. Shrouds should be used to decrease sediment resuspension when appropriate.

In the case of mechanical dredging, speeds and cutting methods also must be specified. Cycle times should be controlled to ensure that the speed of bucket movement into sediments is slow enough to minimize bottom impact. Project specifications should prohibit bucket dragging or over dredging and mandate that a rinsing operation be included in the dredging cycle, as was used in the Saginaw River cleanup by the Army Corps of Engineers (Cable Arm 2001). In addition, multiple bites and bottom stockpiling should not be allowed as they can cause sediment releases (San Francisco BCDC).

Barge filling practices and temporary storage of dredge spoils must also be well defined and monitored. Barges must not be allowed to overflow. During storms or high flow events, operations should be suspended to avoid problems.

GPS systems should be employed to accurately identify and remove targeted sediments for both mechanical and hydraulic dredging. This would increase the efficiency of the project and reduce the amount of sediment unnecessarily removed and processed, as well as lessen impacts to river ecology.

Delays are preferable to problems. As was learned in the Fox River project, remediation of specific hot spots should only be initiated when there is sufficient time to finish them before onset of winter and cessation of operations. This would safeguard against leaving contaminated sediments exposed beyond one field season, as in the case of the Lower Fox River (Clean Water Action Council). Dredging should occur when river flows are lower, i.e. summer and fall months.

Monitoring is a critical component of the operation. Multiple water quality testing sites should be used to compare background rates of contamination with those adjacent to and downriver from work sites. Real time turbidity sensors should be used to notify operators when turbidity exceeds a certain level, and operations should be immediately stopped. These sensors were employed in the PCB cleanup at Cumberland Bay, located on the dredge head and 50 feet behind the dredge.

Clearwater also endorses the recommendation by the Fox River Advisory Team that "monitoring should included measurements of dissolved contaminants, as well as contaminants associated with suspended solids"(Wisconsin DNR). Supervision and evaluation of dredging contractors is important to remaining on schedule and ensuring that specifications are being met.

In conclusion, Clearwater supports environmental dredging as a proven and safe means of removing PCB-contaminated sediment. Clearwater also joins dozens of Hudson Valley municipalities in calling for use of hydraulic dredging wherever possible. This technology, in conjunction with silt barriers and careful operatingcriteria,

will ensure a successful cleanup of Upper Hudson River hot spots.

Seven public water supplies draw some or all of their drinking water from the Hudson. These water districts are: Town of Waterford; City and Town of Poughkeepsie; Village and Town of Rhinebeck; Highland (Town of Lloyd); Port Ewen (Town of Esopus); Towns of Hyde Park and Staatsburgh (Dutchess Water and Wastewater Authority); Chelsea Pump Station (NY City Water Supply).

The EPA Feasibility Study lists all of these except Hyde Park. 9 Additionally, the Bethlehem Water District #1 and the Green Island Water Systems use groundwater which is considered "under the influence" of the Hudson River surface water. The Town of Halfmoon has also submitted an application to the NY State DEC to draw water from the Hudson for drinking water supplies, which could begin as early as next year.

Our interviews with managers and superintendents of these supplies support EPA's analysis that dredging poses a very low risk to drinking supplies. All operators interviewed believed that PCBs would not be a problem in drinking water. PCBs have remained below detectable levels at these water systems, despite an estimated one to two pounds of PCBs flowing over the Federal Dam at Troy each day,

and despite the massive release caused by the Allen Mill collapse, which was not picked up until the following year's fish data were analyzed.

The water supplies generally use the same filtration procedures and testing guidelines. All use mixed media filtration systems, employing sand and anthracite. Rhinebeck also uses an "upflow clarification" system in conjunction with a sand and anthracite filter system. None of these plants have activated carbon filters which are most effective in filtering PCBs, but all operators interviewed believed that small increases in PCBs and suspended particles could be removed during the coagulation and sedimentation phases of their filtration process.

Water testing for public supplies is regulated under Part 5 of the New York State Sanitary Code and includes testing for microbiological, turbidity, inorganic chemicals (heavy metals, etc.), and synthetic organic contaminants, including PCBs. Currently, water is tested for PCBs on an 18 month basis, although Dutchess County Department of Health is moving towards a quarterly test. PCB testing at these plants is limited to the following Aroclors: 1016, 1221, 1232, 1242, 1248, 1254, and 1260. PCB testing is conducted at independent labs and costs approximately $200 per test.

Clearwater has compiled a list of recommendations from operators of Hudson River water plants as well as municipal governments that oversee these plants. Several of these recommendations are included in memorializing resolutions passed by local governments, including the Town of Poughkeepsie, Village of Rhinebeck, and Town of Lloyd. The recommendations include:

EPA develop a Warning Notification System and develop contingency plans in the event of accidental release of large amounts of PCBs during the cleanup process

EPA establish a Drinking Water Monitoring Plan for the public water systems that includes funding for public water suppliers to send water samples to EPA-approved labs on a more frequent schedule, i.e. monthly. EPA should allocate resources for these suppliers to test on a more regular basis for other contaminants, including heavy metals and particulates. EPA should also set up contingency plans for situations where water samples are found to be in noncompliance with environmental quality standards. Water systems, like Rhinebeck and Poughkeepsie, have no backup water supply and

need to have a contingency plan in place.

EPA require daily monitoring for PCBs downriver from dredging operations and make results accessible to plant operators, possibly through a website.

EPA establish contingency funding to cover increased water supplier costs related to dredging, i.e. engineering costs, and provide technical support in the unlikely event that problems arise.

EPA meet with all managers, superintendents, and local elected officials from municipalities using the Hudson for drinking water. Many of the plant operators we contacted said that the only contact they have heard from EPA is notice of public meetings. EPA's design and implementation phases must include these officials to ensure protection of drinking water supplies and also establish EPA's credibility with these communities.
Habitat Restoration
While there may be ecological impacts upon dredged areas, this topic has received little attention in the EPA's Reassessment. Of particular concern are critical underwater habitats that may overlap with potential dredge sites. Clearwater recommends, where possible, minimal disturbance of critical underwater habitats or areas that contain endangered or threatened species of plants or animals. In select cases, it may be beneficial to leave a portion of the habitat undisturbed to foster recolonization by organisms. However, it should be noted that Clearwater favors the long term benefits of thorough PCB removal over the short term ecological cost of habitat disturbance or loss.

The thorough removal of PCBs from select areas in the Upper Hudson will have many ecological benefits, including the removal of nuisance species like the water chestnut (

Trapa natans)10, increasing edge effect in ecological areas11, and reduced siltation in navigable sections of the river.12

Given the large amounts of sediment that will be removed from the river, as well as the minor and temporary risk of further contamination of the water column from sediments exposed by the dredging process, some plan for the backfilling of affected areas is clearly needed. Unfortunately, the mining of the sand, gravel and silt that have been proposed as backfill materials may be responsible for ecological destruction in other areas of the Hudson River Valley. For this reason, Clearwater recommends that EPA minimize the use of backfill to the greatest extent possible while still restoring habitat to a sufficient level. If large quantities of fill are needed EPA should investigate the economics of backhauling sand, gravel and other fill material in the same railcars that are used to transport dewatered sediment from the dewatering facility to reduce the impact of truck transportation on local communities. Railcars would need to be cleaned and free of sediment to use this option, but in any event

EPA should design in a closed-loop cleaning system at the disposal site.

EPA's plan for habitat replacement is divided into four sections: deep river (6-12 ft.), shallow river (< 6 ft. – the photic zone), emergent wetlands, and river bank.

Deep River – In these areas EPA has proposed a backfill of one half foot sand and one half foot gravel. In some areas they will include patches of just one foot of sand in order to create a mosaic of substrates. A few areas will include boulder clusters.

Shallow River – The backfill in this area will alternate between sections of six inches of sand covered with six inches of gravel and sections of one foot sand. It could also include some boulders. Some locations filled in with sand will be planted with a mosaic of native plant species, both in composition and cover, with densities ranging between 0 and 100 percent. Approximately one third of this section will be planted with vegetation.

Emergent Wetland – Backfill will be comprised of a layer of sand covered by a layer of more finely grained sediment. It will be planted with a number of species listed in EPA 2000 Appendix F, and interspersed with deep pools of varying size which will be vegetated with floating vascular plants.

River Bank – River banks will be stabilized in various ways as specified in EPA 2000 Appendix E.8.

Because EPA has not yet provided an inventory delineating sensitive or critical underwater habitats, it is difficult to offer a well-constructed recommendation about which areas are safe to dredge, and which may need more protection or restoration. A pre-construction baseline-monitoring program is briefly outlined in EPA 2000 Appendix F

. A thorough biotic inventory of wetlands and sensitive habitats is an essential next step. Replanting and other remediation efforts should be based on specific inventories, particularly the loss and replacement of native species.
---
Footnotes from Part 2
7 Clearwater's preferred remedial alternative would result in even greater reductions in the quantity of PCBs that flow over the Federal Dam at Troy every year. Substitute Clearwater's preferred remedial alternative in place of the EPA's preferred remedial alternative in the following analysis for even great economic benefits to the Hudson River Valley.
8 The bank stabilization with rip-rap was designed for a 100-year flood event of 41,400 cfs, while the current EPA model uses 47,000 cfs as a 100-year flood value and the current estimated maximum 100-year flow rate for the river is estimated at 60,000 cfs (US EPA, 2000).
9 Contact Fred Zenetti at (845) 486-3627.
10 Currently, many areas of the Upper Hudson are unnavigable due to the density of water chestnut colonies (e.g. Coveville Yacht Basin).
11 Edge zones of ecological areas characteristically host more species richness and diversity.
12 Navigational dredging has been restricted in the Upper Hudson since 1979 and siltation is increasing with direct effects upon the navigability of Upper Hudson waterways. Dredging will increase accessibility of these navigable waterways, thereby attracting boaters and anglers to the Upper Hudson.
---
Go to the next section
Back to the Table of Contents
Back to Clearwater
© 2001 Hudson River Sloop Clearwater, Inc.