Urban Forestry is the care and management of trees in urban areas. This is done for the purpose of improving the urban environment both ecologically and aesthetically. Improvements in urban forestry greatly benefit green stormwater infrastructure and allow for citizens to get involved in bettering their own communities.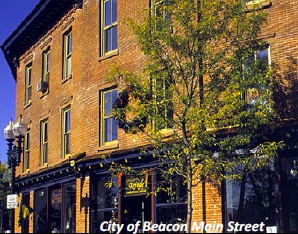 Advancing Community Forestry Management
in the City of Beacon, NY
Working in close partnership with the City of Beacon, Dutchess County, local stakeholders, and residents, Clearwater has developed urban forestry and green infrastructure projects by promoting community forestry management and green stormwater infrastructure as part of an ongoing New York State Department of Environmental Conservation grant. Clearwater implemented an Urban and Community Forestry Grant, awarded by the New York State Department of Environmental Conservation (NYS DEC), to promote urban forestry management and green stormwater infrastructure in the City of Beacon.
Urban Forestry and Green Infrastructure
Stormwater runoff is a major cause of water pollution in urban areas. When rain or snowmelt falls on our roofs, streets, and parking lots, the water cannot soak into the ground and runs off with pollutants from the urban landscape.
Green Infrastructure is a set of approaches and technologies that maintain, restore, or mimic the natural flow of water in the landscape. It uses vegetation, soils, and natural processes to manage water and create healthier urban environments. These practices are designed to infiltrate, evapotranspire, capture or reuse stormwater.
In an urban setting, Green Infrastructure refers to the patchwork of natural areas that provide habitat, flood protection, cleaner air, and cleaner water. On the neighborohood level, Green Infrastructure refers to stormwater management systems that mimics nature by soaking up and storing water.
Goals of the Project:
• Increase public awareness about the value and importance of urban forestry to the ecosystem, stormwater management, climate mitigation, among others.
• Clearwater will educate the youth and community through their involvement in the various parts that are part of this Urban Forestry project.
• Provide City of Beacon with a foundation for improved environmental and urban forestry education and practices Clearwater.
Project includes:
– Tree inventory of up to 12 street-miles or 1,000 trees
– Pruning and tree removal training for the City of Beacon Highway Department Staff
– Green jobs training for local youth – Pruning and tree removal at Hiddenbrooke Park (now closed because of the danger of aging trees)
– 2012 Main Street Arbor Day Observance and a 2013 Arbor Day Event at the University Settlement Camp that includes tree plantings and youth empowerment activities
– Tree planting on DeWindt Street as part of a green infrastructure initiative
Deliverables:
Beacon Tree Inventory Report, October 2013
Beacon Tree Inventory Data, October 2013
For more information about the Urban Forestry grant, please contact Manna Jo Greene at MannaJo@Clearwater.org or 845-265-8080 ext. 7113.