March is the perfect time to join Clearwater!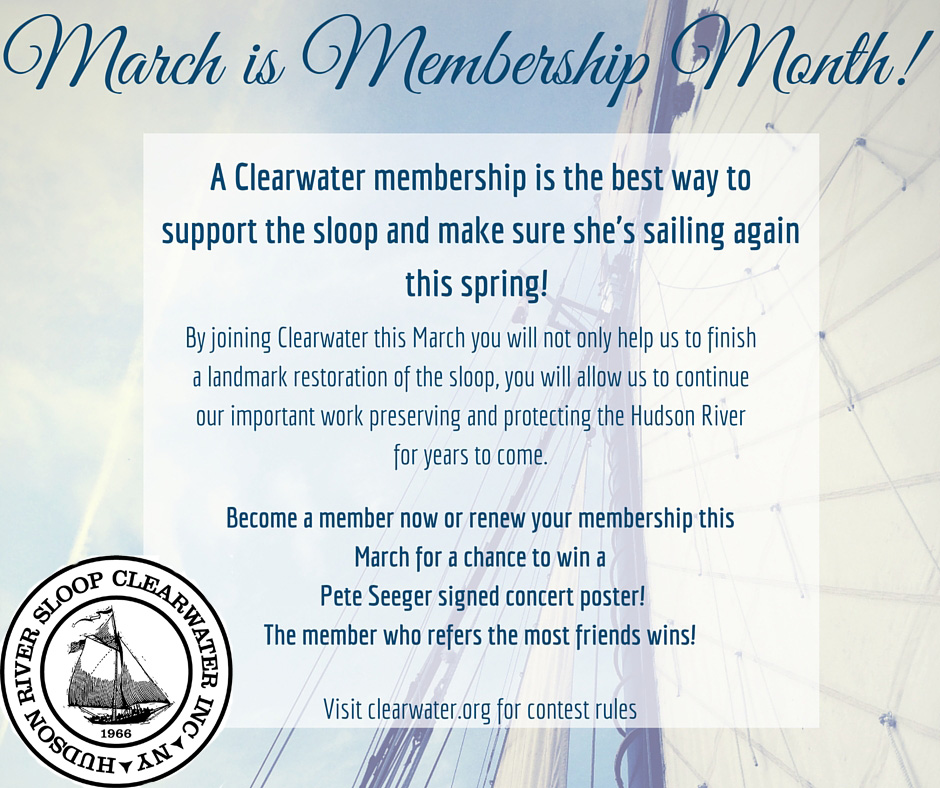 We are only three months away from the completion of our major hull restoration project and we're working hard to get Clearwater back on the River! This March we're depending on our members now more than ever to help us do the important work that we do on the Hudson River. Your membership means a lot to us; it allows us to preserve and protect the Hudson, but joining or renewing now will give us the boost we need to finish strong this winter! Plus, joining this March comes with lots of benefits…
In addition to our regular member benefits:
All new and renewing members will all be entered into a drawing to win a special prize!*
All new and renewing members will receive a SLOOP sticker with their membership!
All new and renewing members will receive a special promo code for 15% off at the Clearwater store!
The member who refers the most friends by March 31 will win a Pete Seeger signed concert poster!
Look for other flash contests on our social media pages throughout the month.
The Rules:
1.You must be a member to win!
2. Refer as many friends as you can and have them write your name in the box where it says "For March Membership Month, please provide the name of the Clearwater Member who referred you." The member that refers the most friends will win the signed, framed concert poster.
3.  The contest runs from March 1 through March 31. The winner will be chosen and announced on this page and our social media pages on April 1.