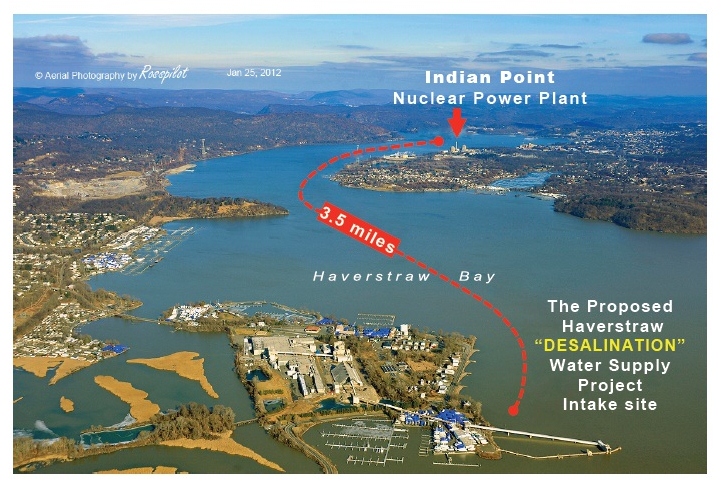 Photo courtesy of Lee Ross
Scrapping of Desalinization Plant Is 'Huge Victory'
On November 13, the New York State Public Service Commission reversed its own 2005 finding that there was a dire need to build a desalination plant on Haverstraw Bay to increase Rockland County's water supply and directed United Water not to pursue construction.
The PSC directed United Water to work with Rockland County communities to come up with alternative, smaller-scale solutions for increasing the county's water supply. In addition, it instructed United Water to improve conservation programs, reduce leakage, make repairs and upgrade equipment.
Clearwater's Environmental Action director, Manna Jo Greene, said, "This is a huge victory for the Hudson River and the people of Rockland County!"
She gave kudos to the Rockland Water Coalition and its allies for "patience, persistence and fact-based organizing" and to the municipalities in Rockland County for stopping "a costly, energy-intensive and ultimately unnecessary boondoggle of a plant that would have done serious harm to the critical aquatic habitat in Haverstraw Bay."
"The plant would have also exposed the residents of Rockland to radioactive isotopes from planned discharges and unplanned leaks at Indian Point nuclear power plant, which enter the Hudson 3.5 miles to the northeast of the proposed 10-million-gallon per-day desalination facility," Greene said.
"Even if well-diluted by the Hudson River, Rockland residents don't need to be drinking water laced with tritium, strontium-90 and cesium," she said. "For so many reasons, including the potential impacts of climate change and sea level rise, this was a bad idea.  Unfortunately, without sustained public opposition, too many bad ideas get built."
United Water had sought imposition of a ratepayer surcharge to build the plant.
The commission ruled that United Water may not seek to recover about $50 million in pre-construction costs through a ratepayer surcharge. However, if a plant is built at some point in the future, then the company can seek a surcharge, the commission ruled.
The town of Ramapo and Rockland County had led legal opposition to the surcharge.
. . . . . . . .
Why on earth would anyone want to build a desalination plant just 3 miles across the river from Indian Point, which is leaking radioactive water into the Hudson?
United Water of NY, a division of Suez – a large, multinational corporation that privatizes water for profit – wants to build a 10 million gallon a day desal plant in Haverstraw Bay to provide additional drinking water to much of Rockland County. With improvements paid for by Rockland residents and businesses, United Water plans to then sell any excess water to New Jersey.
Like Rockland's water, the flow of reliable information to those who need it is also threatened by UWNY and its proposed desalinization plant.  It has been left to local citizens' groups to point out the problems with the proposal, leaving area residents to climb a steep learning curve on a complex issue to climb fast. New York DEC has held only one public hearing that attracted an overflow crowd, most of whom had no opportunity to speak and be heard.
Public health threats:  Haverstraw Bay is brackish, already receives industrial discharge and is not classified by New York State as a drinking water source. The desalinization plant's intake of River water would be sited 3.5 miles from the Indian Point nuclear plant, which is leaking tritium and strontium-90 and other radioactive isotopes into the Hudson River. Tritium cannot be removed by the plant's reverse osmosis process.  Low levels of strontium-90 have been found in test results of pilot plant. Health and safety impacts of such low-level exposures in drinking water have not been adequately assessed.  Suez Environnement Group's parent company GDF Suez is a major owner/operator of nuclear plants.
Environmental threats:  Withdrawing 10 million gallons of water and injecting 92,000 gallons of wastewater a day, desalinization would damage the uniquely sensitive and productive habitat of Haverstraw Bay, expressly violating existing water resource conservation and coastal management plans, and further compromising declining fish populations, including Atlantic sturgeon which are on State and federal endangered species lists.   Residents are also concerned that the project would accelerate overdevelopment of an area already burdened with heavy development pressures.
Senseless expense: Desalinization is the most energy-intensive and expensive form of drinking water there is, and UWNY has testified about possible "rate shock" when consumers get the bill.  Desalinization should be a last resort for arid places with no other water resources. But Rockland is water-rich and has large reservoir that together with groundwater sources should adequately supply residents' needs given proper management. If Rockland needs more fresh water, conservation, green stormwater infrastructure practices and water recycling can provide it without resorting to an extremely expensive, energy-intensive desalinization plant.  So why build one?
Selling Rockland County's water to New Jersey:  United Water New York is owned by Suez Environnement which profits from privatizing water resources around the world, earning over $18 billion in 2010.  If it builds the new plant, Rockland residents would bear the capital costs, while UWNY would charge them for the desalinated water.  Meanwhile UWNY and its affiliate United Water New Jersey also make money by discharging water from Rockland's DeForest Lake Reservoir into New Jersey, where residents pay to use it.  With more of Rockland's water coming from a desalinization plant, less would be drawn from the DeForest Lake Reservoir, leaving more of its water to spill into New Jersey for use there.  United Water has a history of sending much more of the Reservoir's water to New Jersey than its discharge permit allows, and was fined by the NYSDEC for doing this in 2007.  Data from the United States Geological Survey indicates that excess releases from Lake DeForest to New Jersey have continued for decades, and between 1991 and 2007 United Water took roughly double the permitted limits.  Yet when the reservoir was built, the NYS authorization for it stated that it was to be "operated solely for the benefit of the citizens of Rockland County. The only benefit to the Hackensack Water Company (United Water New Jersey) and the people of New Jersey is the incidental benefit of a regulated flow in the river."  The desalinization project pits the interests and water rights of Rockland against New Jersey, with United Water profiting at both ends.
For more information, contact Manna Jo Greene , Clearwater Environmental Action Director, MannaJo@Clearwater.org, 845 265 8080, ext.7113
Or visit the Rockland Water Coalition website at http://sustainablerockland.org