The issue of hydrofracking, or "fracking," is important for residents of New York and Pennsylvania and anyone who lives on what is known as the Marcellus Shale — a geographic formation that stretches north from West Virginia and contains one of the largest natural-gas deposits in the world.
In December, 2014, New York Governor Andrew Cuomo announced the state will legally ban all hydraulic fracking.
Hydraulic fracturing involves injecting large volumes of water containing a mixture of toxic chemicals and sand into horizontal wells at extremely high pressure to fracture bedrock and release and capture natural gas.
People living in communities around fracking operations have experienced contamination of drinking water, illnesses, decreased property values and other disruptions. And because fracking releases methane – a potent greenhouse gas – it actually has a worse carbon footprint than coal or oil.
The Marcellus and Utica shales located in parts of the Catskill-Delaware portion of the New York City water supply are targeted for hydrofracking due to the large quantities of gas trapped within the rocks of these low-permeability reservoirs.
Having witnessed the BP Oil Spill, we do not want to incur the disastrous results of lax oversight in our region, especially when cleaner sources of renewable energy and energy efficiency are readily at hand.
New York Fracking Ban
Generic Environmental Impact Statement on the Oil, Gas and Solution Mining Regulatory Program – New York State Department of Environmental Conservation, May 13, 2015
A Public Health Review of High Volume Hydraulic Fracturing for Shale Development – New York State Department of Health, December 2014
Fracking Facts:
• State and federal laws allow companies list fracking fluid ingredients as "proprietary" or "no hazardous ingredients" even if it is not the case.
• 83% of tested chemicals in Montana fracking fluids have four to fourteen adverse health effects.
• Manufacturers of the fluids recommend that many of these chemicals be disposed of in hazardous waste facilities.
• Oil and gas companies are not required by law to disclose the chemicals used and generally do not release them.
• Nearly 30% of all the fluids remain underground.
• Some of the fluids, brought back to the surface, are taken off-site to be reinjected in the ground or "land farmed" where they are mixed into the soil to evaporate.
---
Clearwater Takes Action, Speaks Out Against Hydrofracking; NYS Senate:
Allan Shope, Clearwater Board President (video)
In July 2010, Clearwater's founder, Pete Seeger, banjo in hand, led a protest against hydraulic fracturing during a press conference outside the NYS Senate Chambers in the Capitol in Albany, calling for the NYS Legislature to pass a moratorium on this essentially unregulated technology. Speakers included actor and director Mark Ruffalo and Clearwater Board President Allan Shope. Before anyone knew it, Pete had protesters, State Senators and reporters singing together "This Land is Your Land; This Land is My Land" and ""God's counting on Me, God's Counting on You," complete with a special verse about fracking.
This form of inspirational activism was reminiscent of the impromptu concert held in the halls of Congress in the early 1970's when Pete and the Clearwater crew sailed to Washington DC to deliver hundreds of thousands of signatures to urge Congress to adopt the Clean Water Act.
With the support of celebrities like Pete Seeger, Mark Ruffalo and many others, and thousands of signatures on letters and petitions from Clearwater members and concerned citizens, two weeks later, on August 4, 2010, the New York State Senate passed the Thompson Moratorium (S.8129-B) by a vote of 48 to 9.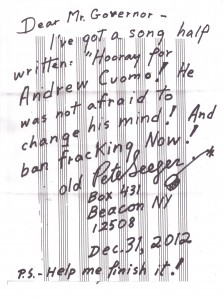 Clearwater continues to call for a total and permanent ban of hydrofracking in New York State.
Our work isn't over! Invite your neighbors and friends. Help spread the word to help protect NYS air quality and groundwater! Let's protect NY and say no to unregulated hydrofracking and the immense damage to people's lives, property and groundwater it has caused so widely in Pennsylvania and elsewhere.
---
Resources:
Gasland and Gasland II:  Film maker Josh Fox takes a look at the dangers of hydraulic fracturing and the controversial method of extracting natural gas and oil, that is now occurring on a global level (in 32 countries worldwide). Click Here to learn more!
Clearwater Hydrofracking Petition.pdf
Clearwater Hydrofracking Public Comment 1.10.12
Clearwater brief comments on dSGEIS 11.29