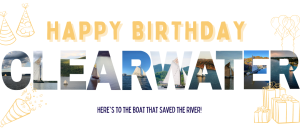 Here's to the boat that saved the Hudson River
Happy Spring, everyone! We come with birthday greetings…for our fine and splendid Sloop! Thanks to years of careful hands working hard to preserve this icon, Clearwater is celebrating her 54th birthday today in her happy place; with her students, out sailing on the mighty Hudson River.
In case you didn't know, 54 years is no small feat for a wooden boat. There are just a handful of other historic ships that can claim such longevity and far fewer who have sailed continuously under the same caretakers/ownership/stewardship. On our course of high and low tides, Clearwater Inc. has served as a steward of America's Environmental Flagship for over five decades, and we look forward to the next five.
But Clearwater needs you to be a part of the sloop's future. Only through three generations of diligent oversight, expert carpentry, high quality materials, and thousands of pints of blood, sweat and tears, have we been able to sustain this vessel for half of a century. None of that work would be possible without all of you who have volunteered, donated, and shared your experience with a friend.
Clearwater has been an inspiration to all who catch a glimpse of that 3000 square foot sail gliding gracefully under the Mid-Hudson Bridge, off the Brooklyn Piers, or up Newburgh Bay from the Highlands. Now we need you to help us spread that feeling up and down the Hudson Valley by giving Clearwater a birthday present; your gifts will help us purchase top quality wood for new planking, marine-grade rope to haul up those sails, and new sails themselves!
We appreciate your support more than we can express and we look forward to sailing with you in the – many – years to come.