Enjoy more of Clearwater in 2019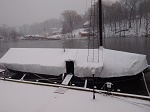 Dear Clearwater Members,
During the winter, beloved Sloop hibernates for the winter while undergoing all kinds of maintenance wooden boat needs. It's also a time when our organization's operating revenues hibernate, as we impatiently wait for the Spring sailing season, and its associated revenues, to begin anew.
If you're willing to help us smooth out our revenues by paying now for Clearwater goods and services you expect to buy in the coming year, we'd like to reward you with a 15% premium through a program we're calling "Bucks for the Boat".
Simply stated, an investment in Boat Bucks will earn an immediate 15% premium. A $1,000 investment will buy $1,150 in Boat Bucks; $2000 will buy $2,300 in Boat Bucks. Your Boat Bucks can be used to pay for Clearwater event tickets, to pay for auction items, to charter the sloop, to buy tickets to public sails, and more. Apply the 15% premium any way you like; invite a friend to join us at the Gala or at Chefs, bid higher on that much wanted auction item, invite a friend to sail with us, and more. Most importantly, as you look forward to all that we'll be doing in 2019, you'll be helping Clearwater now, when our need for revenues is greatest.
We hope that you use your Boat Bucks to enjoy more of Clearwater in 2019, but you can use them in 2020, as well. Any Boat Bucks remaining in your account on November 30, 2020, will be considered a donation to Clearwater.
To keep our accounting costs low, we've set the minimum purchase at $500, are selling in $250 increments above that, and are limiting participation to the first fifty purchasers. We'd appreciate receiving your Boat Bucks investment as soon as possible, but in any case, no later than January 4, 2019.
Boat Bucks are currently available online, or by filling-out the form below and delivering it to the Clearwater office in-person or by mail. You can also call the office and provide the same information over the phone.
Sincerely,

Greg Williams
Executive Director