Ashley Knox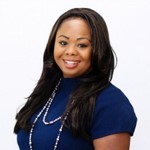 Ashley Knox, MPS a Kingston, NY native is the Founder/Director of Go Beyond Greatness Inc., a college and career readiness organization designed to support students to develop the skills and "greatness mindset" needed to succeed in the 21st century. Ashley is a public speaker and educator with over ten years experience developing educational leadership programs for high school and college students locally and across the globe.
Her work's mission is to empower young people to become great leaders of tomorrow with an emphasis in leadership development, effective communication, positive behavior, and resiliency. Ashley holds a Master's degree from SUNY New Paltz in Humanistic and Multicultural Education.
She has served as a college administrator of international programs and study abroad along with supporting international students to gain the college experience in the Hudson Valley. Under the NYS My Brother's Keeper Initiative, her company has partnered with local school districts and the business community to deliver environmental education and pre-employment training in the field environmental green jobs, targeting youth from low to moderate income backgrounds.
In addition to her educational involvement, she serves on the Leadership Council of United Way Raising Hope of Ulster County, a board member of the Hudson River Playback Theatre, and a Thought Partner for the Kingston Land Trust. Ashley's professional commitment to education and youth development gives her the high capacity to successfully carry out programs that inspire young people go beyond their greatness in academic achievement and life success.