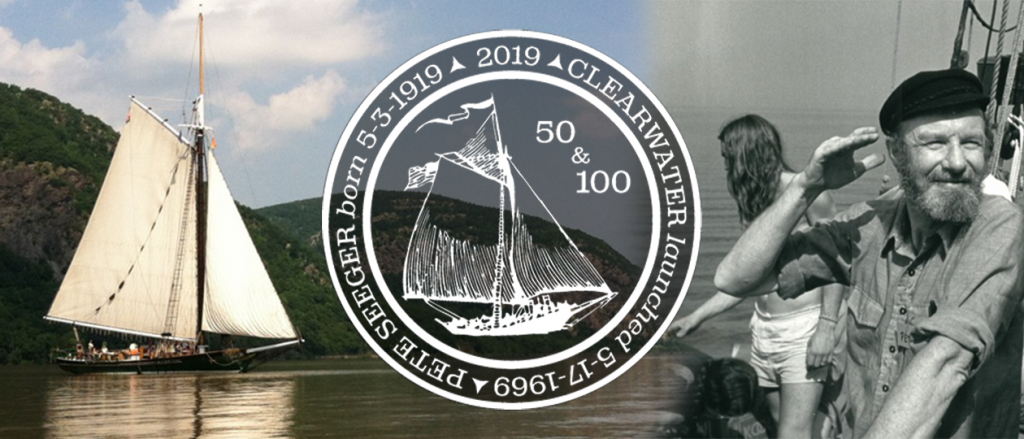 This year marks two monumental anniversaries for Clearwater.  Our visionary founder, Pete Seeger, would have been 100 years old on May 3rd, 2019 and we mark 50 years since the sloop's launch on May 17th, 2019.  We invite you to join in the celebration wherever you are!
Events
For regional events hosted both by Clearwater and others, see our 50~100 events page.
For events taking place around the world, see the Smithsonian Folkways Spirit of Seeger page.
History
Pete Seeger was born into a family of musicians on May 3rd, 1919 in Patterson, NY.   He was a legendary musician, singer, songwriter, folklorist, activist, environmentalist, and peace advocate, and one of the most influential people of the twentieth century.
Among his many accomplishment, Pete Seeger led the founding of Clearwater. In 1966, in despair over the pollution of his beloved Hudson River, Seeger announced plans to "build a boat to save the river."  At the time, the Hudson was rank with raw sewage, toxic chemicals and oil pollution; fish had disappeared over many miles of its length. Seeger, along with many other concerned individuals, believed a majestic replica of the sloops that sailed the Hudson in the 18th and 19th centuries would bring people to the river where they could experience its beauty and be moved to preserve it. Inspired by that vision, the organization began with the launch of the sloop Clearwater on May 17th, 1969 —a majestic 106-foot long replica vessel.
The sloop Clearwater is recognized as America's Environmental Flagship and is among the first vessels in the United States to conduct science-based environmental education aboard a sailing ship, creating the template for environmental education programs around the world. More than half a million people have experienced their first real look at the Hudson River estuary's ecosystem aboard Clearwater. In 2004, the sloop Clearwater was named to the National Register of Historic Places for its groundbreaking role in the environmental movement.
Today, Hudson River Sloop Clearwater, Inc. and the iconic sloop Clearwater are carrying forward Pete Seeger's legacy by partnering with Hudson Valley schools and community leaders to raise the bar of environmental education and encouraging youth to become involved as active stewards of their environment and the Hudson River. Through the organization's  multiple environmental education programs, youth empowerment programs, environmental action campaigns, Green Cities initiatives, and unique approach to public outreach, the sloop Clearwater is recognized as a symbol of grassroots action through hands-on learning, music, and celebration.
Read more in the Clearwater Navigator Spring 2019 Special Edition