Clearwater builds strong boats with kids, Hudson River Maritime Museum builds strong kids with boats; together we build a stronger community.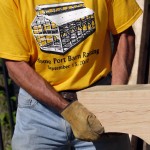 Click here to see a video of the September 15, 2012
Barn Raising for the new Kingston Home Port and Education Center
Click here to see a slide show of the September 15, 2012 Barn Raising for the new Kingston Home Port and Education Center (click through to view photos)
Hudson River Sloop Clearwater, America's Environmental Flagship, and Hudson River Maritime Museum, the only museum in New York State dedicated to preserving the maritime history of the Hudson River, have embarked on an exciting new project that will establish a vibrant economic model for the entire Hudson River Valley.
The new Kingston Home Port and Education Center multi-purpose building will serve as a winter berth and repair shop for the sloop Clearwater, and as a center for the community to gather for educational programs, music, special events, workshops and meetings.
The sloop Clearwater will be moored at the docks for the community to visit and enjoy during the cold months and the boat shop will welcome visitors who can witness the waterfront workshop, with the crew using woodworking tools and making repairs the boat.
In the warmer months, Hudson River Maritime Museum will use the facility to welcome school groups for hands-on outdoors activities, maritime history lessons, seasonal exhibits, and tours.
The two Hudson River organizations share many common objectives and goals and will work together to deliver the best of what each organization has to offer to benefit the Kingston community and businesses, and the greater Hudson River.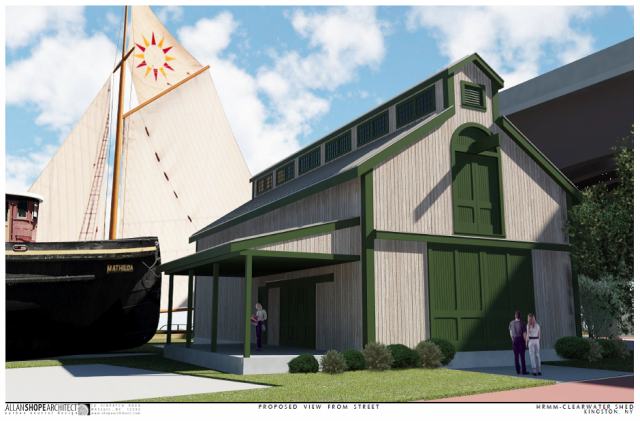 A Maritime Resurgence on the Hudson: Already a maritime heritage destination, the Kingston waterfront attracts tourism to the region by hosting special events such as River Day, Steamboat Days, and festivals. Kingston's historic Rondout with its deep water docks is one of the best boating destinations on the Hudson River.
Accessible by car, train, boat and city bus, with a local trolley running out to Kingston Point and water taxi service to the lighthouse, the area is ready for this renaissance. The waterfront center will be a terrific addition to Kingston's lively historic district, home to museums, restaurants, art galleries, restaurants, antique and gift shops, and important to Kingston's local economy as a catalyst that attracts business and visitors from New York City, truly supporting the idea of the Hudson as the "River that flows both ways."
Support the Home Port: To find out more about how you can support the project, please contact: Jeff Rumpf, Clearwater Executive Director, at 845-265-8080, extension 7121, jeff@clearwater.org or Patrick McDonough, Hudson River Maritime Museum Executive Director, at 845.338.0071, extension 13, pmcdonough@hrmm.org.
---
Project Specifications:
Architect: Allan Shope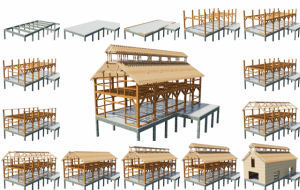 Architect Structural Engineer: DeStefano & Chamberlain Inc.
Timber Frame: Barlow Enterprises
Shipwright and Timber Framer: Jim Kricker
Contractor: Eugene DeLorenzo Inc.
64' x 36' timberframe structure
Siding: natural cedar
Trim and doors: dark green
First phase: driving of piles and foundation construction with 3' knee walls to remediate periodic flooding.
Second phase: construction of timber frame made of specially milled iroko and red oak, collected and donated by volunteers from the many trees felled by Hurricane Irene.
Third phase: roof, siding, utilities, flooring and overall systems
Scheduled completion date: early November 2012
Project Funding Total project costs: approximately $1,000,000
For more information and for current updates on the progress of the constrution, please visit kingstonhomeportandeducationcenter.wordpress.com