Teach hundreds of kids about the Hudson River!
Clearwater is looking for young people who are enthusiastic, willing to learn, and ready for a challenge. Interns are immersed in sailing, teaching, team-building and everyday tasks that make Clearwater and the Mystic Whaler function as classroom, a boat, and a home. Participants gain experience in scientific sampling, boat handling, public speaking, ropework, and community living.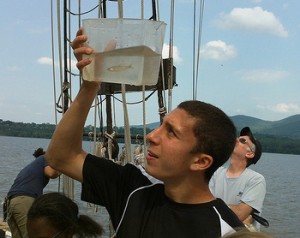 Clearwater Education Internship
Interns spend two to three months living onboard and assist in delivering Clearwater's renowned education programs. Interns also lend a hand in carrying out shipboard duties, including sailing the boat to chores and maintenance. Interns assist with docking, raising and tending the sails, and general duties associated with living onboard the sloop.
The Education Internship Program is for those pursuing a degree in, or have a passion for the environment, sailing, teaching and the outdoors.  The Education Intern is expected to help the Onboard Educators set up and teach Clearwater's curriculum, including ecology, water chemistry, physics, history and navigation. The internship involves being a full time crewmember while supporting Clearwater's onboard education program. Click Here for More Information about the Education Internships.
If you are interested in applying for a Education Intership Position onboard Clearwater, please send a resume and cover letter to the attention of "Onboard Educators", c/o Hudson River Sloop Clearwater, 724 Wolcott Ave, Beacon, NY 12508; or submit via to: Educator@Clearwater.org.
Please note: Education Interns are subject to pre-employment drug testing and random drug testing, under US Coast Guard and Department of Transportation regulations.
---
Clearwater Youth Internship
The Youth Internship Program is for young people ages 16-20 from communities in the Hudson River region and offers a challenging, enjoyable, and educational learning experience for  those who may not otherwise have this opportunity.
This is a competitive internship program with limited spaces available. Applicants should be interested in one or more of the following: the environment, sailing, history, teaching, and the outdoors.  Internships are two weeks in length and during that time interns live aboard the boat and are closely supervised by our crew and education staff. There is a fee for food and financial assistance is available to all accepted applicants.
At Clearwater, we realize the importance of raising environmental awareness across socio-economic and ethnic lines. This internship is designed to raise the consciousness of environmental justice issues, to develop maritime interest and skills in young people, and to encourage participation among youth so that our programs will directly reflect the diversity of the communities we serve.
Click here to apply for a Youth Internship online 
Click here to download a Youth Internship application
If you are interested in volunteering onboard, please visit the Onboard Volunteer page.